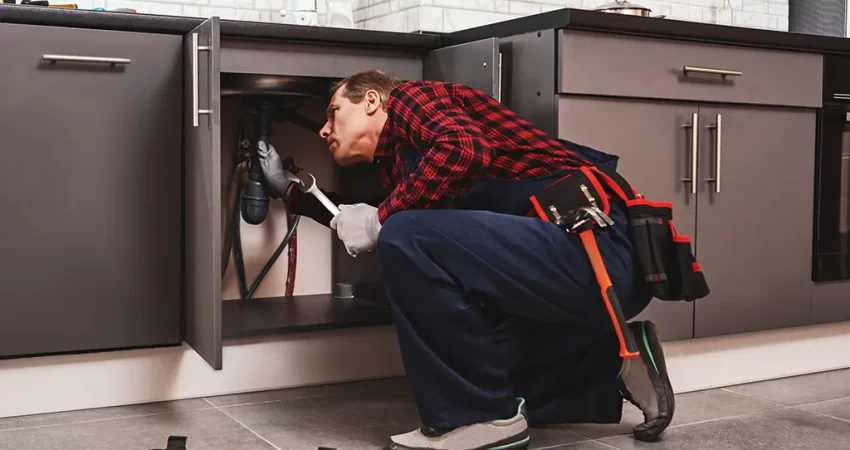 Why Your Floor Drain Backs Up and How to Fix It
A common problem in homes across America is backed-up drains. You may explain that your bathroom sink drain is clogged due to soap scum, producing backflow. However, you can't as easily explain a floor drain backing up.
You may not observe chronic clogging in your drains because they aren't visible. Still, a chronic clog in your drains indicates an underlying issue.
Unfortunately, low-lying plumbing fixtures are harder to notice. Without dealing with the source of the problem, you will only be faced with the same problem later.
Remember: If your basement drain backs up, it is not only due to soap scum.
Why is the Floor Drain Backing Up?
There are various reasons for floor drains backing up because all drain lines within your plumbing system are interlinked. The links create multiple channels for water to flow through, where one clog may affect the rest, and this is often the case without proper maintenance.
Low-lying plumbing fixtures are more closely linked to your home's sewer and main drain lines. There may already be standing water on your basement floor around its drains without other drains around your home exhibiting the same symptoms.
You may have a clog if you notice gunk and other particles in the floor drain backups.
Poor Installation
A clogged drain is the easiest way to explain your floor drain backing up. However, why it's coming out of your basement floor drain isn't as simple as foreign objects caught in the drain line.
Your home's pipelines must be crafted with sturdy material and lined up correctly to avoid chronic structural problems later. Any weak link in the system may cause damages that warrant costly repairs.
Clogs may come from outside your home if your sewer lines aren't laid down correctly or provided the required protection.
Pipelines
Tree roots surrounding the sewer exit pipe may prevent your home's sewage from completely draining, causing a backed-up pipeline. If your sewer line is blocked, it collects backed-up sewer water and causes wastewater to flow back into your home.
Still, anything going down your sink drain may cause a backed-up basement drain. Because all your drain lines lead to the main drain line, which is the junction linked to sewer lines, everything in your drains ends up together at the bottom.
The earring you dropped in the wash-tub basin yesterday may be why your basement floor drain is backing up today.
Negligent Maintenance
If expert plumbers meticulously constructed every component of your home's plumbing system, poor maintenance may still negate those efforts. Any mechanism in your home is not a set-it-and-forget-it fixture, especially sophisticated configurations like drain lines.
You should hire expert inspection regularly for your bathroom and kitchen sink drains, facing the most exposure to external elements. Professional maintenance services are a good idea for any house drain.
However, based on statistics, foreign clogs typically come from your bathroom or kitchen.
Mineral Deposits
If accumulated debris doesn't cause your basement floor drain backing up, another buildup may be to blame. Mineral deposits saturating your pipes may cause a clogged drain. If you inspect the drain inlet and notice whiteish or cloudy patches, various mineral deposits may lurk within your pipelines.
Mineral saturation isn't exclusive to your basement drains. Calcium deposits happen anywhere within your plumbing fixtures. Hard water is caused by an abundance of various minerals, especially calcium.
When hard water flows through your drain system, it can inhibit proper circulation. It may also cause corrosion and compromise the state of your pipelines, making them more prone to clogs from either end.
Clogged Drain Line
Sewage backups are in large part thanks to clogs. However, corrosion in your sewer or drain line may trap sewer gases where they don't belong. While most of us think particle pollution is the largest clog-causing component, the gas buildup is equally troublesome.
A drain backup may be due to interrupted water flow from exit points being blocked by sewer gases. Gas is a porous state of matter, but the pressure it builds within your sewer line or main house trap can deter and redirect wastewater.
A basement floor drain backing up sewage accompanied by foul odors, like rotten eggs, indicates a hazardous sewer line or main house trap problem. It would be best if you had an expert inspect any sewer backups immediately.
Particle Pollution
Toilet paper towels down your toilet bowl are likely the cause behind your basement floor drain backing up unexpectedly. If it is a sudden occurrence with no prior alerting smells, you might find a clump of baby wipes in your lowest drain that started from a clogged toilet.
You must not flush clog-causing particles down your toilet to avoid them ending up in your basement floor drain line, causing any sewer line damage.
How Sewer Lines Affect Your Basement Floor Drain?
Basement drains are closely linked to the main sewer line and house trap. Basement floor drain backups are more serious than those in your wash-tub basin and shower drain.
Call a professional immediately upon observing basement floor drain backups.
Your Home's Sewer Lines & Drain System
Basement floor drains are the lowest drain linked to the main sewer line. Sewer water creeping up your basement sewer line leads to severe floor drain backups, causing water damage and structural decomposition.
Routine maintenance is important to prevent small drain backups from becoming costly damages. Here's how your drain system works in line with your sewer line.
Main Sewer Drain (Sewer Line)
All your drains, including the basement drain, lead down the main line and exit through sewer pipes. The main drain line is a pair of parallel pipelines made of concrete, clay, cast iron, or PVC. The main line is actually your sewer line.
The sewer line leads sewage water out of your home and into your home's septic tank or the city sewer line.
Septic Tank
Your septic tank is an independent fixture, separate from your home's internal plumbing fixtures. However, your basement drain backing up may still be caused by standing water in your septic tank. A sewage backup may be due to toilet paper congestion in your septic tank, posing as the source of your sewer line problem.
Unfortunately, you can't rid these clogs with some boiling water and baking soda. It would be best if you had a professional deal with clogs in your septic tank.
City Sewer System
A sewage backup stemming from public interchanges is harder to remedy. You can't fix these issues on your own. However, you can help prevent them. If everyone in the neighborhood did their part, keeping up with routine maintenance and observing proper drain etiquette, a communal sewage backup might not be such an imminent threat.
A professional may help patch up your street-side plug to facilitate proper drainage from your home to the city sewage system. If no one else in the neighborhood is experiencing floor drain backups, you should thoroughly clean your basement floor drain.
How to Fix Your Basement Floor Drain Backing Up?
Floor drain backups are common, but fixing them is more meticulous than you think. It would be best to borrow or purchase an electric snake to clean your basement floor drain efficiently. If you have a power auger, drain cleaning may be less hassle.
Clogged Drains
Depending on which drain is clogged, you will need different tools and techniques. If your basement drain is backing up, use a longer, sturdy auger to reach the depths of your sewer line.
You can effectively clean your drains using these three steps:
Snaking your drain. Observe caution in snaking your basement drain line to avoid causing any sewer line damage.
Cleaning your drain. Industrial solvents are effective, but used too much or too frequently may cause corrosion.
Call a professional plumber. Not all clogs are curable at home. When all else fails, call the experts.
Drain Snake
Basement floor drain backups are mostly due to particle pollution somewhere in your plumbing. A professional-grade drain snake is the most efficient tool to fish the accumulation of foreign objects in your drain lines.
Be careful using one if you have never used one before. Applying rigorous pressure using its sharp edges and solid lining may cause cracks and abrasions in your pipe's bearings.
Drain Cleaner
Industrial solvents or store-bought drain cleaners can soften accumulations and dislodge them from your pipes. However, an undiluted bleach solution may worsen corrosion or shorten the lifespan of your cast-iron pipes. Opt for more gentle alternatives.
Baking Soda Mix
You have read this before, and we are sure you are tired of hearing it. Still, the best organic remedy you can use to clean stove tops, sinks, toilets, etc., is baking soda. Pairing equal parts of baking soda and white vinegar or lemon juice will get results. Follow every drain cleaning with hot water to flush everything down together.
Cleanup Process for Drain Backups
Gather all the materials you need.
Use gloves, goggles, and a mask.
Lower the (manual or electric) auger down the drain line you want to snake.
Rotate the lever or pull the trigger when the auger hits the bottom of the drain line. The auger will start "biting" or struggle to rotate when its line is saturated with particles.
Fish the auger out and repeat steps 3 & 4 at least one more time.
Pour hot water down the drain after snaking.
Add one cup of baking soda BEFORE the vinegar or lemon juice.
Follow it with equal parts of white vinegar or lemon juice.
Let the mixture sit for ten to twenty minutes.
Finish the process with boiling water to flush everything out of your drain line.
Remember, these tips are for minor clogs. They cannot effectively deal with tree roots and other significant clog-causing particles. Additionally, they can't remedy gas buildup in your sewer line.
Maintaining Your Home's Plumbing System
Your home's sewer line is a sophisticated yet delicate system. A sewage backup is a large nuisance that can be avoided by keeping up with routine maintenance.
Using water softeners and drain cleaners can help you prevent any future backups from occurring. However, nothing makes your plumbing fixtures immune to clogs and corrosion.
Health Risks | Water Damage
Dangerous amounts of carbon dioxide emission stem from sewer gases seeping out of your floor drain. If you smell rotten eggs, call for emergency plumbing services immediately.
If you suspect a leak and can't pinpoint the source, a professional leak detection service will help find and stop the pipe from causing any water damage.
Call Plumbing Experts in Seattle, Washington
An annual tune-up is a minimum requirement for all plumbing. Be sure to schedule one before indicators. If you don't know any dedicated professionals in your area, we got just the guys for you! Call our reliable experts if you see, smell, or hear anything coming from your basement floor drain.
Fox Plumbing & Heating
At Fox Plumbing & Heating, we keep your health, safety, and comfort at the top of our list of priorities. We implement proper safety precautions with all our clients to ensure your peace of mind.
Call us for drain backups, sewer cleaning, and more extensive repairs. If you haven't kept up with your yearly maintenance services, we offer you unmatched piping and repiping services that will help you avoid the strain of future backups.
Call US NOW AT (206) 309-4240