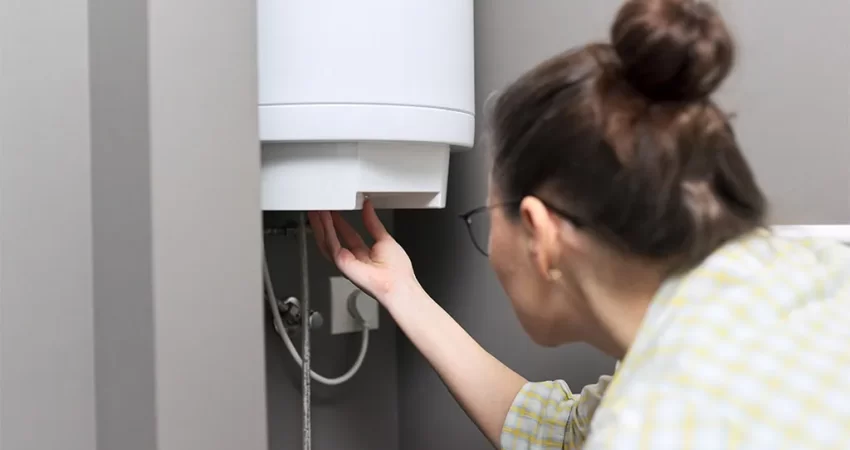 What to Do When Your Hot Water Heater Leaks?
Discovering a leak around your hot water heater can stir up a mix of frustration and worry. We get it — it's not a pleasant sight, and certainly not on your list of wanted surprises. But here's a bit of reassurance: you're not alone, and this is fixable. While these leaks are more common than you might think, swift action is the key to turning things around.
In this guide, we'll walk you through the essential steps you should take right away. Then, we'll delve into the reasons behind such leaks, the potential solutions, and the preventative measures to keep them from reoccurring. And, crucially, we'll discuss why, in most cases, calling in a professional beats a DIY approach.
Immediate Steps to Take
The moment you spot that leak, it's all systems go. Here's a clear, straightforward plan to manage the situation:
1. Safety First
Before anything else, ensure everyone's safety. If you have an electric heater, switch off the power from the breaker box. For those with gas heaters, turn the gas off. Remember: electricity and water are a dangerous combination. As a rule of thumb, steer clear of the water, especially if it's scalding hot.
2. Stop the Water Supply
Every hot water heater has a cold water supply valve. Find it. It's typically located above the heater. Gently turn it off. This action stops more water from entering the tank, helping to halt the leak.
3. Manage the Mess
Water can damage your home's structure and your belongings. To mitigate this, grab a few buckets or towels. Place them around the leak to soak up the water. This step isn't just about cleanliness; it's about preventing more extensive damage to your home.
4. Call the Pros at Fox Plumbing & Heating
Once you've contained the situation, it's time to bring in the experts. While these immediate steps are essential, a professional will provide a long-term solution. Reach out to Fox Plumbing & Heating to ensure your water heater gets the expert attention it deserves.
Time is of the Essence
Acting fast is more than a mere suggestion. Delays can escalate the situation. Water can damage your floor, walls, or nearby items. There's also the risk of electrical hazards if the water reaches outlets. Plus, let's not forget the unnecessary waste of precious water and potential increases in your water bill.
Understanding the Causes
Unraveling the mystery behind your leaking water heater is half the battle. By identifying the root cause, you're better equipped to find a lasting solution. So, what could be behind this unwanted waterworks? Let's break it down.
Age
Like most household appliances, water heaters have a lifespan. If yours has been faithfully serving you for a decade or more, its age might be the leak's culprit. Older units, having faced wear and tear, naturally become more susceptible to issues, leaks included.
T&P Relief Valve
The Temperature & Pressure Relief Valve, commonly known as the T&P valve, plays a crucial role in your heater. It's designed to release excess pressure. But if it's malfunctioning, you could be dealing with an unwelcome leak. Keep an eye out for water trickling from this valve — it's a telltale sign.
Loose Connections
Water heaters involve a series of connections. Years of operation can sometimes mean these connections loosen up. A simple loose inlet or outlet can be the sneaky reason behind that puddle.
Internal Tank Damage
Over time, sediment from hard water can accumulate at the bottom of your tank. This sediment buildup not only reduces efficiency but also leads to corrosion. And where there's corrosion, leaks often follow.
Pressure
Your water heater is designed to operate within certain pressure limits. If, for any reason, the pressure inside surges beyond these limits, your tank's integrity could be compromised. Excessive pressure might be the unseen force pushing water out.
In understanding these causes, we're taking a proactive stance. It's always better to be informed, allowing you to make decisions that safeguard your home and peace of mind.
Dangers of Ignoring Leaks
It's tempting to brush off a small drip or a minor leak, especially when life's daily demands are calling. However, a leak from your hot water heater isn't something to be taken lightly.
Overlooking this seemingly trivial issue can have ramifications, some of which can be severe. Let's delve into why addressing that leak ASAP is imperative.
Property Damage
Water has a sneaky way of causing havoc. It seeps into nooks and crannies, undermining the integrity of your home. Over time, this persistent dampness can inflict severe damage to floors, warp walls, and even ruin valuable possessions. Repairing these damages often comes with a hefty price tag, turning a small leak into a major financial burden.
Mold and Mildew
Where there's consistent moisture, mold and mildew find a playground. These fungi aren't just unsightly; they pose genuine health risks. Breathing in mold spores can lead to respiratory issues, allergies, and other health complications. Especially for those with existing respiratory conditions or allergies, this is a significant concern. And let's not forget the challenge of eliminating mold once it's established.
Wasted Resources
Think of a dripping faucet, now amplify that with the volume of a water heater. Those drips add up, leading to inflated water bills. But it's not just about the water. Your heater works overtime to warm up the incoming cold water, increasing your energy consumption and subsequently your energy bills.
Potential Explosions
This might sound alarmist, but it's rooted in reality. If your T&P relief valve is malfunctioning and pressure within the heater builds up unchecked, you're sitting on a potential time bomb. The combination of a faulty valve and escalated pressure can lead to catastrophic results. This isn't to incite panic but to emphasize the importance of proactive action.
In short, what seems like a small inconvenience today can snowball into a plethora of problems tomorrow. Addressing a leak promptly isn't just about immediate relief; it's about safeguarding your home, health, and wallet from unforeseen challenges.
Solutions and Preventative Measures
Navigating the aftermath of a water heater leak can be overwhelming, but there's a silver lining. With the right solutions in place and preventive measures, you can stave off future leaks, ensuring your hot water remains in the tank, not on your floor. Here's your roadmap to a leak-free future.
Regular Maintenance
Just like your car needs periodic check-ups, so does your water heater. Regular maintenance is akin to a health check for your heater. By catching potential issues early, you nip problems in the bud. Periodic inspections can identify wear and tear, ensuring minor issues don't escalate into a full-blown crisis. It's a small investment for peace of mind.
Installing an Expansion Tank.
If excessive pressure is a recurring villain in your water heater saga, consider an expansion tank. This nifty device helps manage pressure fluctuations, providing a buffer and preventing unwanted leaks. It's an extra layer of protection, especially for closed plumbing systems that experience frequent pressure changes.
Flushing the Tank
Over time, sediment naturally accumulates at the bottom of your tank. This buildup isn't just a potential leak culprit; it reduces your heater's efficiency. Periodically flushing the tank washes away this sediment, extending your heater's life and optimizing its performance. Think of it as a detox for your heater.
Keep an Eye on the Valves
Valves, particularly the T&P relief valve, are pivotal to your heater's smooth operation. If they're damaged or faulty, they're a leak waiting to happen. Regularly check these components for signs of wear. If they're not functioning as they should, replace them. It's a small step that can avert significant issues.
Combatting Hard Water
If your water has a chalky residue or leaves spots on dishes, you're dealing with hard water. Rich in minerals, this water accelerates sediment buildup in your tank. A water softener can be your solution. By reducing mineral content, water softeners not only enhance the lifespan of your heater but also your entire plumbing system.
Each of these steps, while straightforward, can significantly reduce the odds of facing another leak. With these measures in place, you're not just reacting; you're proactively ensuring a smoother, leak-free experience.
Wrapping It Up
Discovering a leak in your hot water heater can be daunting, but with the right knowledge and support, it doesn't have to spell disaster. Addressing the issue head-on and taking preventative measures is key, and for that, you don't have to journey alone.
At Fox Plumbing & Heating, we pride ourselves on being your trusty allies in all water heater predicaments offering all kinds of water heater services. Whether it's a minor repair, a complete replacement, or a brand-new installation, our team of seasoned professionals is at your service. With years of expertise under our belt and a commitment to top-notch service, we're here to ensure your water heater runs smoothly, efficiently, and leak-free.
So, the next time you're faced with a heater hiccup, or if you just want to give your system a check-up, remember – we're only a call away. Dial (206) 654-4986 now and let Fox Plumbing & Heating bring warmth and peace of mind back to your home. Don't wait for a leak to act; be proactive and ensure your comfort today!