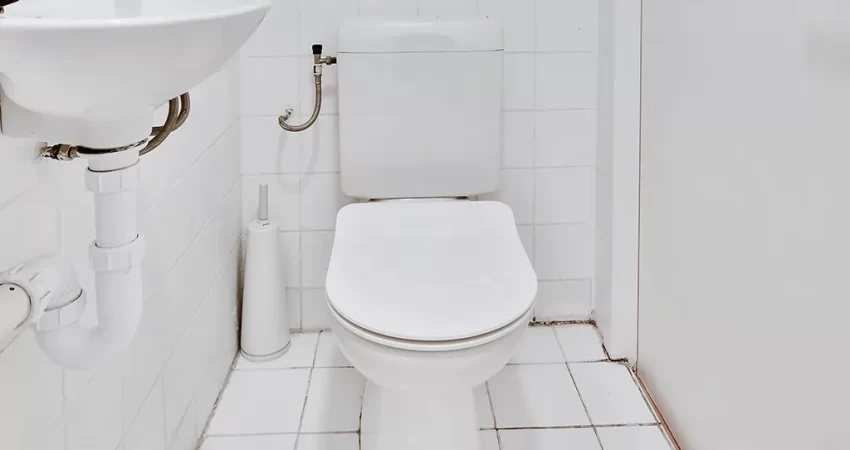 Toilet Backing Up Into Shower: Solutions & Tips
Flushing the toilet only to find the water backing up into your shower can be both alarming and frustrating. If you've experienced this, know that you're not alone. Such backups are a common plumbing issue faced by many homeowners.
In this article, we'll outline the immediate actions you should take, explore the underlying causes, and provide practical solutions to address and prevent future occurrences. Let's dive in and tackle this issue head-on.
Immediate Steps to Take
When confronted with toilet water in your shower, it's crucial to act quickly and safely. Here's what you need to do:
1. Safety First
Power Off: Before anything else, disconnect any electrical appliances in the bathroom. This will safeguard against potential electrical hazards.
Protect Yourself: Slip on a pair of gloves. It's essential to keep your skin from making direct contact with the backed-up water to prevent contamination.
2. Shut off the Toilet
Find the Valve: On the base of your toilet, there's a water valve. Make sure to turn it off to halt any further water flow.
Hold Off on Flushing: It might be tempting to try flushing again, but resist. It could make the situation worse.
3. Drain the Water
Vacuum the Excess: If you have a wet/dry vacuum, now's the time to use it. Efficiently remove the water from your shower with it.
Clean Up: Once the water is out, ensure you clean and disinfect the shower area. This step is crucial for maintaining hygiene and preventing potential health issues.
4. Call a Professional
Even if the water stops backing up, it's vital to call in the experts. A professional plumber can assess the situation, ensuring the problem is truly resolved and offering peace of mind.
Remember, quick action can minimize damage and get your bathroom back to normal faster. Always prioritize safety and don't hesitate to seek professional help when in doubt.
Why Toilets Back Up Into Showers
The sight of toilet water making an unwelcome appearance in your shower can be both alarming and mystifying. Delving into the reasons can help you take effective action.
Blocked Vents
At the heart of your home's plumbing system are vents that often go unnoticed. These vents serve a crucial purpose: they allow air to enter the system, preventing a vacuum and ensuring a smooth water flow. However, when these vents become blocked, the water struggles to flow as it should. This disruption can force the water into areas it's not meant to be, like your shower.
Clogged Drains
Over the course of time, our drains can become the unfortunate collecting point for hair, soap scum, and various debris. This accumulation can lead to stubborn clogs. Given that much of the plumbing in your bathroom is interconnected, a blockage in one area can have a ripple effect, impacting other parts of the system.
Sewer Line Issues
Picture your home's plumbing as a network, all leading to one main sewer line. If there's a blockage in this main artery, the waste water, with nowhere else to go, could make its way back up. Often, tree roots are the culprits, seeking moisture and infiltrating sewer lines. But it's not just nature's doing; sediment buildup, old pipes giving way, or even collapses can be at the heart of such disruptions.
Faulty Plumbing Layout
The design and layout of your plumbing system is more intricate than it might seem. It relies heavily on gravity, with pipes angled to ensure water drains away from your home. If these gradients are off, or if the plumbing has been set up haphazardly, it can lead to unintended water flow and backups.
Septic System Issues
For homes with septic systems instead of municipal sewer connections, an overflowing or failing septic tank can cause toilets to back up into showers. Regular maintenance is key to ensuring your septic system works efficiently, but if neglected, the tank can fill up and not process waste effectively.
Pipe Scale Buildup
Over time, minerals in the water can cause scale buildup inside pipes. This narrows the pipe's diameter and reduces its carrying capacity, potentially leading to backups. This is especially common in areas with hard water.
Misaligned Joints
As houses settle or shift over time, the joints between pipes can become misaligned. Even a slight misalignment can create a point where waste accumulates and causes a blockage.
Foreign Objects
Accidentally flushing non-degradable items down the toilet can cause backups. Toys, diapers, sanitary products, and even thicker toilet papers can get lodged in the pipe, obstructing the flow and causing backups.
Collapsed Pipes
Especially in older homes, underground pipes may collapse due to age, ground movement, or the encroachment of tree roots. This not only blocks the flow but can require significant repairs.
By getting to the root of the issue, you're in a better position to take remedial action, whether it's a DIY fix or calling in the professionals. Knowledge is power, especially when it comes to plumbing surprises.
Effective Solutions for Backups
A backup in the bathroom can throw off your entire day, but with a proactive approach and the right tools, you can keep your plumbing running smoothly.
Regular Drain Cleaning
When toilets back up into showers, one culprit might be a simple build-up in your drains. A combination of baking soda followed by vinegar can be your first line of defense. Pour them down the shower drain, let the fizzing action break down minor blockages, and rinse with hot water.
But for deeper, more stubborn clogs, enzyme-based drain cleaners are your ally. They target organic build-ups, often the reason for interconnected bathroom blockages.
Proper Waste Disposal
Think of the interconnectedness of your bathroom plumbing. What goes down your toilet can end up affecting your shower. Avoid flushing anything that isn't toilet paper or waste. Items like sanitary products, baby wipes, or thick tissues can easily cause backups.
And while the shower might seem unrelated, ensuring you clear out hair and soap residues regularly can prevent cumulative clogs that exert pressure on the entire bathroom system.
Professional Solutions
If your toilet constantly backs up into your shower, you might be dealing with a deeper issue. Hydro jetting can be particularly effective, especially when the cause is tree root intrusions or significant blockages in the main line.
And for mysteries you can't solve with a plunger or cleaner, a camera inspection can illuminate the problem. Plumbers can pinpoint collapsed sections, misaligned joints, or even a faulty plumbing layout. Depending on the findings, you might need targeted repairs or, in extreme cases, pipe replacements.
By tackling the root causes and employing these solutions, that unsettling sight of toilet water in your shower can become a thing of the past. Regular maintenance and vigilance are key. Remember, your bathroom is a system, and every part plays a role in its smooth functioning.
Preventing Future Backups
Having addressed the discomforting issue of toilet backups into showers, it's crucial to pivot to prevention. Because, while solutions are invaluable, prevention is always better than cure.
Regular Inspections
If you've learned anything from the backups, it's that your bathroom's plumbing system is complex and interconnected. To ensure you're ahead of any potential issues, make it a habit to call in professionals for annual or biannual checks. They can spot early signs of wear, blockages, or misalignments that you might miss.
Mindful Usage
It's not just about you; it's about everyone who uses the bathroom. Hold a quick family meeting or put up a friendly reminder in the bathroom about the dos and don'ts. Educating everyone on what should and shouldn't be flushed or washed down the drain can save you a lot of hassle. Prevention starts with awareness.
Installing Drain Guards
You've tackled the issue of cleaning out hair and residues from the shower. But what if you could stop them from going down in the first place? A simple, cost-effective solution is installing drain guards. They trap hair and larger debris, ensuring your shower drain remains free-flowing.
Tree Root Barriers
For those who've identified tree roots as the primary disruptors, it's not enough just to remove the current intrusion. Consider installing root barriers in your yard. These barriers redirect tree roots deeper into the ground, away from your sewer lines, ensuring that the plumbing issue you worked so hard to resolve doesn't make a repeat appearance.
The key to a trouble-free bathroom plumbing system lies in both addressing current issues and preempting future ones. With regular care, attention, and a bit of foresight, you can ensure that backups remain a rare exception, not a recurring norm.
Closing Thoughts
Navigating the complexities of bathroom plumbing can be daunting. From the initial shock of discovering a backup to finding its root cause and solution, it's a journey most homeowners would prefer to avoid. Fortunately, with the right knowledge and preventative measures, such disruptions can be minimized or even eliminated.
At Fox Plumbing & Heating, we understand the intricacies of plumbing systems and are committed to offering top-notch solutions tailored to your needs. Our team of professionals is just a call away, ready to ensure your home's plumbing is efficient, reliable, and backup-free.
Don't wait for another unsettling surprise in your shower. Stay proactive and trust the experts. Give us a call today at (206) 654-4986 and let's ensure your home remains the comfortable sanctuary it's meant to be. Your peace of mind is our priority.