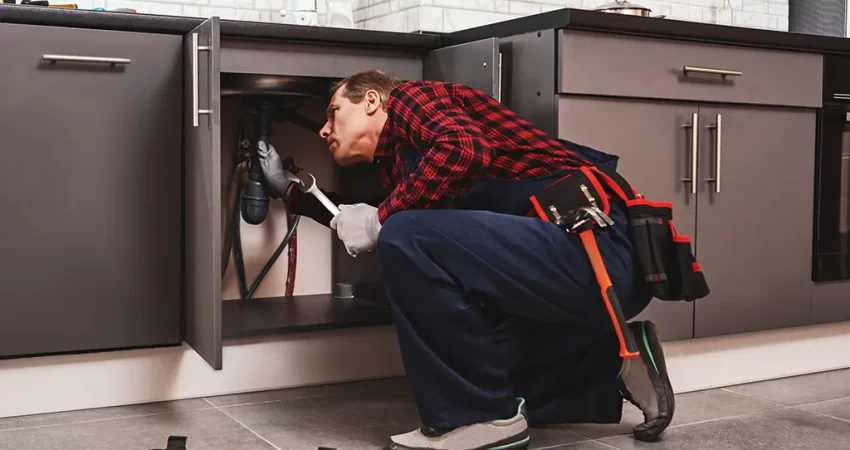 How to Identify Hidden Leaks in Your Home
Hidden leaks in your home can be a silent adversary, causing unnoticed damage and unexpectedly high bills. But how do you tackle a problem you can't see? In this guide, we demystify the process of detecting and managing concealed leaks.
We'll provide actionable steps to identify these leaks, highlight their common locations, and offer practical solutions. Each section is designed to equip homeowners with the knowledge to turn a potential issue into a solved problem.
Leaks can occur anywhere, from the living room to the kitchen. Being informed and prepared is your first line of defense. This guide is your resource for understanding, identifying, and addressing hidden leaks effectively, ensuring your home remains in optimal condition.
Common Signs of Hidden Leaks
1. Unusual Sounds
When the house is silent, especially during the night, certain sounds become noticeable. The subtle dripping or a faint hissing noise can indicate the presence of a hidden leak. These auditory clues, if not overlooked, can be instrumental in early detection and resolution.
2. Increased Water Bills
A sudden and unexplainable increase in water bills is a clear warning sign. For instance, consider a homeowner like Jane, who noticed her bills skyrocketing. Upon closer inspection, a concealed leak was discovered, silently elevating the costs. Monitoring your water bills for unexpected increases can help in identifying leaks early.
3. Mold and Mildew
Hidden leaks create a moist environment, ideal for the growth of mold and mildew. These fungal invaders not only pose health risks but also indicate the presence of excess moisture. Spotting mold and mildew should prompt an immediate check for hidden leaks.
4. Damaged Paint or Wallpaper
Water damage often manifests in the form of blistered paint or peeling wallpaper. These visual cues tell a tale of concealed water leakage, silently impacting the structural integrity of your home. A keen eye for such changes can lead to the timely unveiling of hidden leaks.
5. Odors
Persistent musty or earthy odors can be a sign of hidden moisture resulting from leaks. These odors arise from areas that are consistently wet and are a clear indication that all is not well behind the scenes. Recognizing and tracing these odors can lead to the source of the leak.
In this section, we aim to heighten your awareness of these subtle yet telling signs. Being attuned to these changes can make all the difference in early detection, minimizing damage, and reducing the cost of repairs. Each sign is a piece of the puzzle, leading to the discovery and resolution of hidden leaks.
Areas Prone to Hidden Leaks and Strategies for Identification
1. Bathrooms
Bathrooms are notorious for concealed leaks. A faucet that won't stop dripping or a toilet that runs incessantly are common issues. These problems, though seemingly minor, can lead to significant water wastage and damage over time. Regular checks and maintenance of faucets, showerheads, and toilet tanks are essential in preventing and identifying leaks early.
Strategies for Identification:
Faucets & Shower Heads: Regularly check for drips and moisture. Look for rust or mineral deposits, indicating a leak.
Toilets: Listen for running water and conduct the food coloring test by adding a few drops to the tank and observing if it seeps into the bowl.
2. Kitchens
The kitchen, with its myriad of appliances and plumbing fixtures, is another hotspot for hidden leaks. Areas under the sink and behind the refrigerator are particularly vulnerable. Leaks here often go unnoticed until cabinets and flooring exhibit visible damage. Implementing a routine of regular inspections and maintenance can help in detecting and addressing these leaks before they escalate.
Strategies for Identification:
Under the Sink: Clear out the cabinet and check for moisture, mold, or a musty odor.
Appliances: Inspect connections to dishwashers and refrigerators for leaks or water stains.
3. Basements/Crawl Spaces
Basements and crawl spaces, with their reduced foot traffic and dark corners, can harbor undetected leaks. These areas, often overlooked, can suffer extensive damage from persistent leaks. Making a habit of inspecting these spaces with a flashlight and looking for signs of moisture or water damage can unveil hidden leaks and facilitate timely repairs.
Strategies for Identification:
Visual Inspection: Use a flashlight to inspect for wet spots, mold, or rust on pipes.
Odor: A musty smell can indicate persistent dampness from a leak.
4. Outdoor
Outdoor areas are not immune to the menace of hidden leaks. Garden hoses and irrigation systems, especially, can be affected. These leaks can be exacerbated during the harsh winter months when pipes and hoses are susceptible to freeze and thaw cycles. Incorporating seasonal care, including insulating outdoor pipes and regularly inspecting hoses and irrigation systems, can prevent and identify leaks, mitigating potential damage.
Strategies for Identification:
Hoses & Irrigation: Check for wet spots or erosion in the garden, indicating a leak. Inspect hoses and connections for damage.
Winter Preparations: Insulate outdoor pipes and faucets to prevent freezing and bursting.
What to Do When I Identify a Hidden Leak?
Discovering a hidden leak can be unsettling, but taking prompt and appropriate actions can mitigate damage and lead to a swift resolution. Here's a step-by-step guide on what to do when you find yourself facing this common household issue.
1. Shut Off the Water Supply
The first step is to turn off the main water supply to your home. This immediate action helps prevent further water damage. Locate the main shut-off valve, often found in basements, garages, or outside the house, and turn it off.
2. Assess the Situation
Take a moment to assess the extent of the leak. Check the affected area and surrounding spaces to understand the severity. This initial assessment aids in deciding whether it's a DIY fix or if professional help is needed.
3. Document the Damage
If the leak has caused visible damage, document it thoroughly. Take pictures and make notes of all affected areas. This documentation can be crucial for insurance claims or for explaining the situation to a plumber.
4. Temporary Fixes
For minor leaks, consider temporary fixes to halt the water flow. This could involve using plumber's tape, patches, or clamps. Remember, these are temporary solutions, and a permanent fix should be sought promptly.
5. Call a Professional
For significant leaks or if you're unsure about the severity, it's always best to call in the professionals. A licensed plumber can accurately diagnose and repair the issue, ensuring it's resolved effectively and safely.
6. Monitor the Situation
After the repair, keep an eye on the affected area and adjacent spaces. Monitoring helps ensure the issue is fully resolved and aids in early detection should the leak recur.
7. Preventive Measures
Consider this experience an opportunity to bolster your home's defense against future leaks. Implement regular inspections and maintenance of your plumbing system to identify potential issues before they escalate.
Can I DIY Repair a Hidden Leak?
The question of whether to tackle a hidden leak on your own or call in the professionals is common. The answer largely depends on the severity of the leak and your level of expertise. Here, we explore scenarios where a DIY approach can be considered and when it's best to seek professional help.
1. Assessing the Leak
The first step in deciding if a DIY repair is feasible involves a thorough assessment of the leak. Understanding its source, extent, and potential impact is crucial. Small, accessible leaks may be manageable, while complex, extensive leaks require professional intervention.
2. Tools and Skills
Consider if you have the necessary tools and skills to address the leak effectively. Simple leaks, like a dripping faucet or a leaky hose, can often be fixed with basic plumbing tools and a bit of know-how.
3. Safety First
Safety should be your paramount concern. Ensure that you're aware of the safety protocols, including turning off the water supply and electricity if necessary. If at any point you feel unsure, it's best to call in the experts.
4. When to DIY
Here are some common scenarios where a DIY approach might be appropriate:
Faucet Leaks: Replacing a washer or O-ring can often resolve these.
Toilet Leaks: Adjusting the float or replacing the flapper can be simple fixes.
Hose Leaks: Replacing a leaky hose or tightening connections can be done at home.
5. Knowing Your Limits
It's essential to know your limits. If the leak is behind a wall, involves the main water line, or is causing significant water damage, it's time to call in the professionals. Complex repairs require specialized tools, knowledge, and experience to ensure a safe and effective resolution.
6. The Role of Professionals
Professional plumbers are equipped to handle complex leaks, ensuring that repairs are done safely and effectively. They can diagnose the issue, offer solutions, and even provide insights on preventive measures to avoid future leaks.
While some minor leaks can be addressed with a DIY approach, it's essential to evaluate the situation carefully and prioritize safety. When in doubt, seeking professional assistance is the best course of action to ensure that the leak is repaired effectively, and your home's plumbing system remains in optimal condition.
Why Choose Fox Plumbing & Heating for Leak Repairs?
Fox Plumbing & Heating is your go-to solution for leak repairs, backed by over five decades of experience in Seattle and the surrounding areas. Our skilled technicians are equipped with the expertise and technology to diagnose and repair leaks efficiently. We offer a range of comprehensive services, not just fixing leaks but also implementing preventive measures to protect your home.
Our customer-centric approach is tailored to meet individual needs, earning us a 98% customer retention rate. We're available 24/7 for emergency services, ensuring prompt response to mitigate damage and restore your plumbing system's integrity.
Quality is our guarantee, and every service is executed with utmost precision and care. Partner with Fox Plumbing & Heating for peace of mind and exceptional service.
Need Help Now? Call Us!
For immediate assistance with hidden leaks, call Fox Plumbing & Heating at (206) 654-4986. We're ready to provide swift, effective, and quality leak repair services tailored to your needs. Your home's safety and integrity are our top priority!