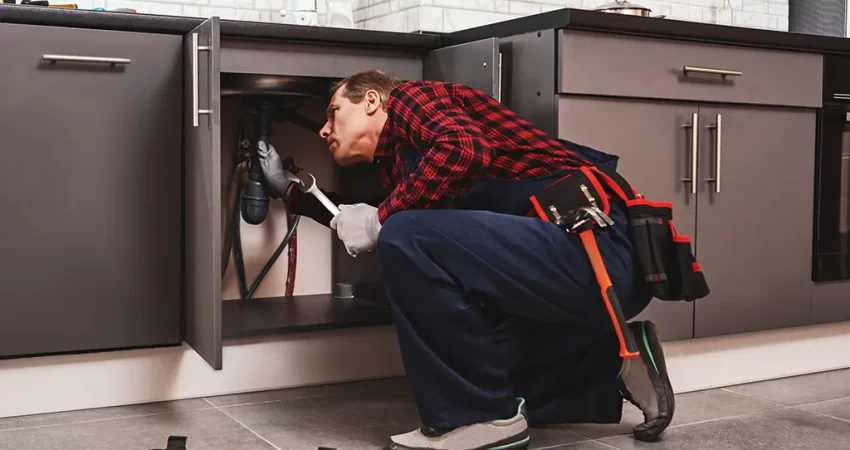 What is a P-Trap and How it Works?
If you wonder what that twirly fixture is under your sink, you came to the right place.
Your kitchen P-Trap is one of your home's most vital plumbing fixtures. A P-Trap is a set of pipes with a U-shaped bend connecting your sink drain line to the rest of your home's inner pipelines.
It helps protect you against foreign particles clogging your drains and promulgates consistent water flow. The most important role your P-Trap plays is the one most of us knows nothing about.
Continue reading to understand how your P-Trap is the unsung hero of your plumbing.
What's Under Your Sink Drain?
If you uncover the sink drain, you can stare down the barrel of its drain pipe. However, there's more than meets the eye, but you have to peer underneath to see it. Opening the sink closet will uncover a pipe with an unusual shape. Some claim it is an S or snake figure. However, the pipe is actually a P with a U-shaped bend in its midsection.
That is your home's P-Trap, and there isn't only one in your house. Look beneath all your sinks to uncover more of your home's P-Traps.
What Do P-Traps Do Exactly?
The P-Trap isn't necessarily a waste pipe but has one among its links. It is a simple device comprised of at least three main elements:
Drain pipe
U-shaped bend
Waste pipe.
Washers, nuts, and rings link them. Together these components make up the P-Trap. If you accidentally drop a stud earring, wedding ring, or teaspoon down the bathroom or kitchen sink, you can fish it out of the drain to prevent clogs from forming, thanks to the curve in the P-Trap.
Here's an easy way to remember your P-Trap's important role; the curve curbs anything flowing in the wrong direction.
However, that curve isn't only to keep things from going down the drain. The bend also prevents anything from going up.
How Your P-Traps Keep You Safe?
Did you know all your drains are interlinked with sewer lines? That's right. All wastewater ends up in the same place. While the drain inlet isn't directly atop, drain lines installed within your floors and walls lead to sewer lines below. You can smell your home's sewage without a clean and functional P-Trap.
If you think a funky smell is nothing to worry about, think again. Foul odors aren't the only thing that comes with sewer gas leaks.
Sewer Gases
Wastewater is congested with decomposing organic elements, such as bio-degradable debris, food particles, and human waste. Organic decomposition emits carbon dioxide (CO2) fumes. While CO2 saturating your airflow poses health risks, another organic compound lurking in your plumbing system is more hazardous.
Methane is at least ten times more potent than CO2, trapping heat and humidity in your indoor environment. High exposure to methane isn't only dangerous to inhale, but too much humidity indoors allows impurities to stagnate while attracting other contaminants.
Caution: Health risks are associated with these toxic emissions.
Sewer gases are hazardous, irritating your eyes, skin, and throat. Others report respiratory ailments such as asthma and allergies. However, these are acute symptoms of sudden exposure. Long-term chronic exposure to lower levels of sewer gases may lead to more serious health problems and be potentially fatal.
Here are some symptoms linked to chronic exposure:
Fainting
Dizziness
Coughing
Dry throat
Itchy eyes
Skin rashes
Nausea
Shortness of breath
Over time, minor symptoms may progress into severe health problems like Cancer and Emphysema. Your P-Trap saves indoor air from exposure to these hazardous emissions, which naturally float upward. The U in the P-Trap is a roadblock against gases streaming up the drain line.
How to Keep Your P-Trap Safe?
A clog or a damaged component may eventually lead to an air pressure buildup, which may cause a gas leak. Keep your P-Traps well-maintained and refrain from throwing any non-biodegradable components down your drains.
Sharp microplastics may penetrate your drains and cause immense damage. An O-ring is a watertight seal that closes off air gaps between washers and pipes. An abrasion or micro-tear in its material may disrupt the entire pipeline.
A P-Trap is filled with other delicate components that help promote water flow and may malfunction without them. If you need to know what kind of P-Trap you have at home, you may cause a corroded slip nut without knowing it.
Before pouring another bottle of gutter cleaner down your pipes, please familiarize yourself with their material to avoid causing any damage.
Cleaning Your P-Trap
Typically, you may clean a P-Trap with industrial and organic solvents. While some homeowners use a bleach solution, we don't suggest you use them on older fixtures. If you aren't sure about the material your trap is made of, stick to gentle or organic cleaners.
Here's a harmless home remedy you can use to dislodge oil clots and soap scum:
Pour boiling water down your sink drain.
Follow it with one cup of baking soda.
Finish it with equal parts of white vinegar or lemon juice.
Let the mixture sit for at least ten to thirty minutes. Flush everything down the drain with more boiling water. Repeat these steps as necessary. Fortunately, baking soda and vinegar or lemon juice are all organic and aren't as harmful as chemical components. You may hear gurgling during this process, which is typical. However, you should call a plumber if the gurgling lasts after completing the entire process.
The Different Kinds of P-Traps
P-Traps are traditionally made with cast iron and clay. However, the more modern P-Trap installation is typically made with insulated PVC or stainless steel. No matter the material your P-Trap comes in, it has the same secondary components, such as a slip nut fitting pipelines together and a washer to seal the inlets and outlets.
Some contractors install a protective layer around older pipes instead of repiping the plumbing system of an older home. If you tap a PVC P-Trap and hear metal clanging, there may be older pipes within. There is nothing wrong with older installations. However, if cast iron pipelines were only covered and not properly integrated with PVC layers or insulation, they may be more susceptible to corrosion and contamination.
These faulty cover-ups are more dangerous for kitchen traps than any other sink in the house. A leak in the original pipelines may settle, encased in the PVC layer. The grease from food particles may settle below and clot, like hair caught in your shower drain. These clogs will prevent water from draining.
Are P-Traps The Same as Grease Traps?
No. Oil traps are storage components in the form of a bucket or box connected to interceptors. The trap is where oil settles while pipelines direct water from your kitchen sink. No plumbing fixture is directly connected to the trap. However, your toilets, showers, etc., are linked to grease interceptors, eventually leading the oil into the traps. If your home's traps and interceptors are too small, they can cause frequent clogs.
The Proper Care & Maintenance for P-Traps
All kinds of traps in your home require routine maintenance and tune-ups. If you don't have a clean plumbing network, a clog in your P-Trap will quickly snowball into significant problems. Remember, you should leave plumbing repair to the experts if you need the right tools and techniques. You might jump to conclusions and diagnose your plumbing issues as more severe than they actually are. Please don't take a hammer to the wall to inspect inner pipelines when all you needed was to change a corroded washer.
If you suspect a leak or a clog, call for expert leak detection services to help you understand what problems your P-Trap may have. Instead of taking water pump pliers to dismantle your P-Trap, call the most reliable plumbers in Seattle.
Fox Plumbing & Heating
Cleaning your drain line, P-Trap, or any other plumbing fixture in your home can be a pain. Working on your P-Trap while basking in CO2 emissions may impair your judgment and cause worse problems. Spending hours, even days, trying to figure out your plan of attack may make you dizzier than inhaling toxic fumes.
Leave your worries to us. You don't have to go through this alone or pay out the nose to get a decent drain cleaning. Our team of experts will deploy cost-effective techniques to help you with all your needs.
Whether you need something as simple as a faucet repair or as complex as piping and repiping, Fox Plumbing & Heating will ensure you get what you need in half the time and half the stress.
For Urgent Concerns, Call US NOW AT (206) 309-4240
Book an appointment online for comprehensive sewer cleaning if your drains emit a foul smell.