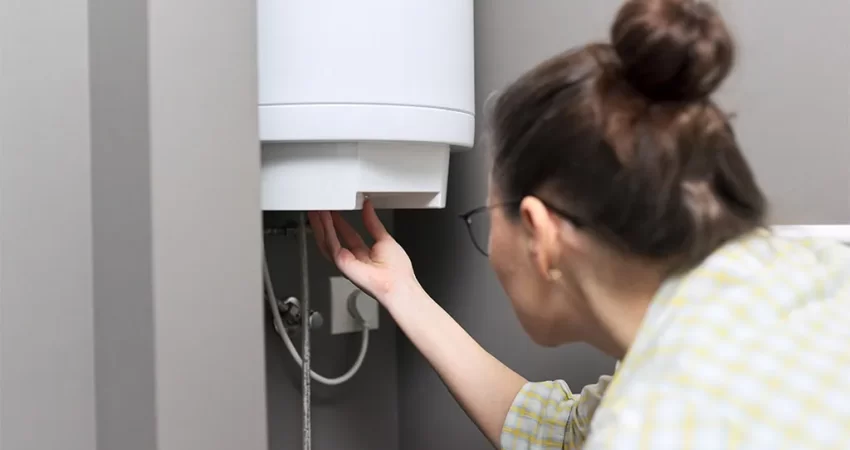 Why is my Water Heater Leaking?
Did you step into an inexplicable puddle? You should inspect your water heater if you walk into your basement or boiler room only to be welcomed with leaks and puddles.
Is your water heater leaking? Has your water heater tank been leaking? Are your pipes spurting water?
We must address that before winter rolls around unless you like cold showers waking you up daily.
Here's everything you need to know about your leaking water heater.
What to Do About a Leaking Water Heater?
Hot water is in high demand in the United States, especially during colder months. A leaky water heater could be detrimental to your entire family if everyone had to wake up to a freezing morning shower.
Thankfully, there's something you can do about it.
If your water heater is leaking, you don't have to worry. A water heater leaking is one of the most common problems in any American household.
Whether it is water leaking from the bottom of the tank or a hot water outlet somewhere in the house, we can help you find a solution.
What Causes a Leaking Water Heater?
A leaking water heater is typically due to too much pressure in the water supply line or tank. While there are plenty of other causes, they all lead to excessive pressure, which leads to your water heater leaking.
Here are some of the most common causes of uneven pressure and leaks.
Corrosion
The pressure inside of your tank-based water heater can build up from steam or water flow not being able to flow through the two pipes seamlessly:
The cold water inlet pipe.
The hot water distribution pipe.
What corrosion does?
Corrosion develops through typical wear and tear or chemical exposure. Corrosion anywhere in your pipes will lead to misalignment, clogs, and various build-ups.
Do you hear noises while your water heater is leaking? When any pressure builds within the tank or pipes, water may burst and cause a leaking water heater.
Proper maintenance prevents corrosion from spreading or hindering your water heater from functioning correctly.
Rust
Rust is a lot like corrosion, stemming from wear and tear. However, rust doesn't develop in the internal tank components.
Most of your water heater is made with waterproof material. Some water heaters have metal or cast iron interlay, glazed or layered with a waterproof medium.
Abrasions, cracks, and tears may chip at the medium or top layer of the water heater and expose the inner material to moisture. Rust can quickly eat away at your water heater and spread the exposure to the rest of your home.
How a rusty water heater leaking impacts the rest of your home?
Water damage outside the water heater tank can dry up before being seen. When moisture develops evenly on any surface around the heating unit, it's most likely condensation from your hot water heater leaks.
Some lead to water stains and may still catch your attention. However, some condensation doesn't leave a noticeable stain, leading some homeowners to think the water heater contained the exposure.
Moisture invites mold and mildew. If you don't see all the areas affected by the leak, it won't be long before your home needs mold remediation on top of a water heater repair.
Mineral Deposits
While debris may accumulate from rust and corrosion, other elements may also cause buildups. Sediment buildup can cause rust and corrosion, but it can also disrupt air and water flow.
If you have a hard water supply, your faucet spout, garden hose tip, sink drain, or shower drain may often be whitening.
You may need to install or inject your cold water supply line with water softeners if you notice a cloudy or white saturation on your shower floor drain, faucet spout, or sink drain.
Clogs
If the water heater tank is leaking, there may be a clogged drain due to a sediment buildup in the bottom of the tank. Clogs don't typically build within the water heater tank.
However, if it is connected to the same supply line as the rest of your plumbing fixtures, one clogged drain may domino, impacting your water heater.
Water leaks from a cracked storage tank, obviously due to creating gaps where there is standing water. However, when there are no cracks around its body, the tank is leaking from the bottom due to a clogged drain.
Can clogs in other plumbing fixtures affect my water heater?
If a hot water outlet is leaking, it may not be due to your water heater. Professional plumbers can determine whether it is leaking water due to your water heater.
If your faucet is clogged due to mineral deposits or corroded elements, enlist a professional faucet repair service.
Particle Pollution
While rust, corrosion, and mineral deposits occurring inside and outside your water heater are typical, particle pollution is not. An accumulation of foreign objects inside your water heater tank or pipes is out of the ordinary.
There shouldn't be any foreign particles settling within your water heater as they may cause internal tank leaks. Ensure there are no holes anywhere on your water heater that debris may fall into, infiltrating your water heater.
Accumulation may cause costly damages that you may avoid with biannual draining.
Hot & Cold Water Inlet Pipe
Your hot and cold water inlet pipes may transmit particles. Faulty pipelines may welcome dirt, soil, mold spores, etc., into your plumbing, including your water heater.
If these two pipes are exposed to various external elements, particles may creep into your water heater system. Pipes must always be protected from external exposure to prevent any external factors from disrupting your plumbing fixtures.
Drain Valve
Many homeowners are up at arms once their water heater starts leaking, but it isn't always that serious. Sometimes, there aren't any faulty components, just loose ones.
A drain valve that isn't completely closed is often the source of a water heater leaking water. An easier explanation if the bottom of the tank is leaking water would be a loose drain valve. Turning the drain valve slightly to the right to tighten the seal can effectively stop a water heater leak.
If turning the drain valve clockwise doesn't stop the leak, using a pipe wrench may help turn it to its tightest possible setting. Water leaking from your drain valve is an easier fix unless it is faulty.
Temperature & Pressure Relief Valve
A temperature and pressure relief valve is normally atop a tank-based gas water heater. It controls a cartridge within a pipe attached to the tank's bottom.
It can trap and release water pressure buildup. If it is faulty or unstable, it will reflect on heat distribution.
How a faulty relief valve causes water heater leaks?
Pulling on the temperature and pressure relief valve may relieve your water heater from built-up tank pressure if your water heater starts clanging or whistling.
The hot water tank builds more pressure due to steam without a reliable temperature and pressure relief valve to help alleviate water and airflow.
If too much pressure builds within the tank, the water heater's temperature won't reach its height, resulting in insufficient heating.
However, your water supply line may continue to lead water into your tank. The pressure within your tank prevents the supply from getting in, leading the water to burst out of pipes.
What's Your Water Heater?
Different water heaters lead to varying problems. Still, no model makes your home immune from a water heater leaking. Here are the most common water heaters in American homes.
Boiler (Water Heater Tank)
The most traditional installation is a boiler or gas water heater with a storage tank. It has a drain valve, temperature and pressure relief valve, and various pipes.
Its connections include one for water supply, gas supply, exhaust, and distribution.
If your tank-based water heater leaks, it risks many separate connections. Hot water heaters with a faulty tank may affect their pipe connections, including a separate supply line.
The water heater leaking can corrode your pipes, and corrosion can spread to your gas line. The gas line can affect the water temperature of your water heater, but it can also impact your home's ambient heating and anything else that relies on a gas supply.
Electric Water Heater
If your home has an electric water heater, you may still experience a water heater leak. Even electric water heaters may still come with a storage tank.
If your electric water heater is leaking from the bottom of the tank, you may still deploy the drain valve tightening approach. However, if your electric water heater is leaking, it can infiltrate the electrical panel and cause short-circuiting.
How Do I turn my electric water heating device off?
Typically, there is a shut-off valve somewhere in the tank. It is a safety mechanism by the cold water supply line. You can turn the shut-off valve to its tightest setting.
You don't need a pipe wrench to cut off all supply lines. It should effectively stop your water heater from leaking due to not receiving any water.
On-Demand Water Heater (Tankless)
An on-demand water heater has storage. A tankless water heater doesn't come with a tank but stores up to 9 gallons of water at a time.
It can deploy heating from its internal water tank while it heats more of your supply. An on-demand hot water heater doesn't come with a water tank.
However, malfunctions may still result in a water heater leak.
Where is water stored in a tankless water heater?
While there isn't a tank, you can still find a drain valve near the cold water inlet pipe. You can turn both the shut-off valve and the drain valve to deter the water supply and drain any left within its storage.
Don't use a pipe wrench or pliers to turn these valves. They are connected to delicate pipelines that may succumb to immense external physical and internal water pressure.
Instead, you should wrap them in paper towels before handling the valves or pipes if they are too slippery.
What You Can Do When Your Water Heater Leaks?
Problems with your relief valve, drain valve, or shutoff valve can be a pain to figure out yourself. Additionally, you may sustain injuries to your skin by applying too much pressure on the shutoff valve.
Any ball valve is tricky to handle without the right tools or techniques. If your water heater leaking is driving you mad, it's time to call in the pros.
The Water Heater Maintenance Process
Inspection
Evaluation
Tune-ups & repairs
First, you need reliable leak detection services.
A comprehensive inspection allows technicians to pinpoint the source, the areas it affected, and how to remedy them efficiently.
Please don't attempt at-home remedies without proper tools or guidance. You may short-circuit electric water heaters and crack storage tanks by forcing DIY techniques on them.
Preventative Maintenance & Urgent Repairs for Water Heaters
Keep your family safe and warm for the winter: schedule routine maintenance and tune-ups for your water heater to avoid any untimely issues.
A maintenance visit includes full draining, tune-ups, and replacing any faulty or corroded components before they affect others and impact your water heater.
Fox Plumbing & Heating
If you are looking for reliable water heater repair, we are here for you! Fox Plumbing & Heating can help you with all your needs.
Keep your home's water quality pristine with our help. Our top-rated team of experts can drain, clean, repair, and replace your water heater.
Call US NOW AT (206) 309-4240
When water appears out of nowhere, don't hesitate to reach us at our hotline.