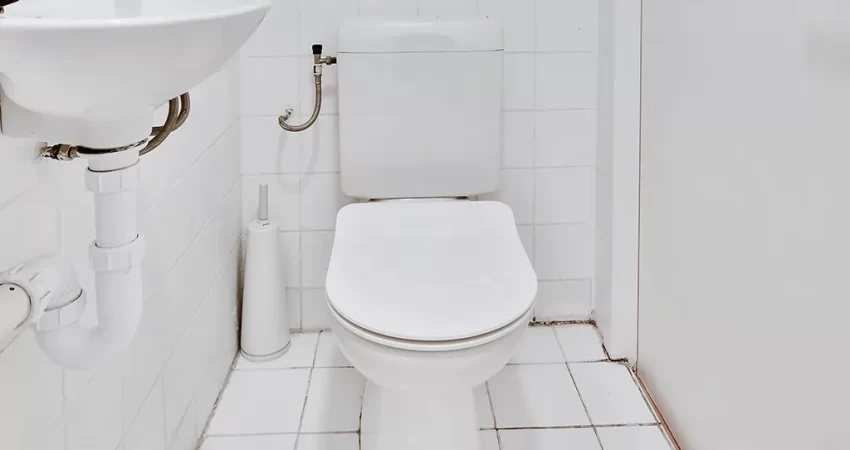 What Causes Toilet Flange Leaks?
If searching for inexplicable leaks around the base of your toilet landed you here, you are in for a ride.
Your toilet bowl is okay. The toilet tank doesn't seem to be the source of any leaks. Still, there's water pooling around the toilet.
Do you know what a toilet flange is? Does anyone?
It is sometimes referred to as a closet flange. While not everyone knows about what it is or its role, all toilets have one, including yours.
Read on to find out more about your toilet flange.
What You Can Do About a Toilet Flange Leak?
There is more to your toilet than the toilet bowl rim. A toilet leaks water from the bowl, tank, base, and pipes. They may all cause a water to pool around the toilet.
However, it may be the toilet flange if you have inspected all parts of your toilet without finding the source of the toilet leak. A broken toilet flange may cause the water to pool at the base of the toilet.
Familiarize yourself with the entire toilet to pinpoint faulty components faster.
Parts of Your Toilet
You can just read through the entire list to comprehensively understand your toilet. You can also go ahead and skip to the section you are keener on understanding.
Toilet Bowl
Yes, the toilet bowl. It is a straightforward installment: a porcelain or ceramic bowl with a rim and toilet seat attachment for more comfortable seating.
There isn't much else to the toilet bowl except its internal drain and water supply channels.
Why is the Toilet Bowl Leaking?
While there are only a few components in the bowl, there are possible sources for a water leak. The easiest to pinpoint on the bowl would be through cracks and abrasions.
While the material is often sturdy enough to withstand immense pressure, your bowl isn't immune to damage. Toilet water may seep out of noticeable cracks.
However, microtears may not be big enough to allow water out of the bowl. Still, they won't stay micro for long. Microtears develop into larger cracks quickly.
Toilet Tank
A toilet tank is the most susceptible component to toilet leaks. You don't have to worry about sanitation if your toilet tank is leaking water. It's clean.
The water leaking from the tank comes from the supply line. While the water is clean, compromised components are still a cause for concern.
Why is the Toilet Tank Leaking?
Carefully lift the lid atop the tank and flush the toilet. Water should drain to the bowl while the supply line brings in new water.
Examine where the water intake goes, where it seeps out, and which components seem disorderly. A standard toilet has internal pumps, washers, valves, lines, and a capacity of nearly 2 gallons.
When you open the tank, observe each component and up to what level the water supply fills its capacity.
Toilet Flange
A toilet flange is a lesser-known component. The lack of common awareness about a toilet flange is peculiar, considering every toilet has one. Additionally, don't more of us wonder where the base of the toilet leads?
Like most homeowners, you might think the toilet base only holds the bowl up, like a chair's legs. However, do you ever think about how the base is bolted to the bathroom floor?
Beneath the toilet base is a toilet flange, which serves various purposes. However, it is more complex than the bowl. Many different components comprise the toilet flange.
The floor flange provides a safe connection between the toilet and your finished floor. With the floor flange, your toilet's base has a structural base to fit into and won't be too wobbly under your weight.
Additionally, the closet flange contains a drain pipe (sewer pipe) that facilitates sewage. A toilet flange has a wax ring, wax seal, drain pipe, and closet bolts.
It may also have a plastic ring integration to protect the wax seal. However, a leaking toilet may be due to the disintegration of any one of these components.
Why is the Toilet Flange Leaking?
Broken toilet flanges are caused by typical wear and tear. Improper maintenance and tune-ups can lead to malfunction and damage.
If the toilet rocks every time you sit on it, a closet bolt may be off its hinges or corroded.
Toilet Wax Ring
A closet flange leaks mainly due to a compromised wax ring. The wax seal around it may chip, melt, or tear, loosening the watertight seal around the wax ring.
A wax ring may sound delicate. However, it isn't as delicate as you think. Gaps between the wax ring and pipe bearings lead to a leaking toilet.
With proper maintenance and upkeep, a wax ring can last as long as the toilet itself. Still, they may become too brittle due to improper installation and exposure.
If your toilet has an extra thick wax ring, it may last longer before succumbing to corrosion. A corroded wax ring may leave behind too much wax residue and spread corrosion. However, a new wax ring can benefit your existing flange.
Toilet Flange Nuts
Deteriorating wax rings may corrupt a flange nut. It can cause rust, quickly spreading and damaging nearby metal components.
If you notice rust within the water pooling around the toilet, it can damage the rest of your finished floor, scratching away its glaze. Once your closet bolts and nuts are rusty, it won't be long before your finished bathroom flooring is exposed to moisture.
Toilet Flange Bolts
You may have a PVC floor flange. Still, your closet flange has various metal or cast-iron components like flange nuts and toilet bolts.
Your sewer pipe, supply line, flush valve, fill valve, and shutoff valve is separate from the bolts and nuts but is equally susceptible to rust and corrosion. Remember, toilet bolts secure your toilet to bolt holes.
Faulty screws can knock your toilet off its base and damage its sturdy components. While you can slip toilet shims under the base of the toilet to fill the gap, preventing it from rocking, it won't stop your toilet leaking.
Since the floor flange connects your toilet to the floor, the finish of your bathroom tiles prevents moisture from seeping underneath. Water damage isn't only dangerous to your bathroom's aesthetics.
Water pooling beneath your floorboards may seep into your downstairs ceiling or crawl space. If your toilet base is leaking, turn off the water supply line and hire professional toilet repair.
Keep reading to find out how to deal with the toilet leak.
Cleaning Up After Your Leaky Toilet
If there is enough water around the toilet, you can safely assume there is a leak somewhere. You will need to do these three things right away.
Turn the supply line clockwise to close off the water supply.
You must ensure no water is coming from the fill valve located in one corner of the toilet tank.
Pull or press the lever or button to open the flush valve and drain the water supply.
Whether wax seals, wax gaskets, wax rings, flange bolts, or tank bolts are the problem, you first need to stop more water from leaking out.
These steps prevent your toilet leaking too much water onto your finished floor.
Cleaning Up Leaks
Remember, old flange components are susceptible to leaks. If the silicone caulk is already compromised, lay down a cardboard sheet around the bottom of the toilet to prevent sewer gases from seeping into your living space.
The entire flange covers the area where the toilet meets the floor. However, an old wax ring and other old flange components may leave gaps for toxic emissions to seep through.
Inhaling sewer gases from a broken flange can cause one or all of the symptoms listed below:
Nausea
Fainting
Skin irritation
Dry eyes and throat
Dizziness
Allergies
It is best to leave repairs and tune-ups to professionals. However, it would help to clean up what you can before phoning the experts.
Broken Flange Repair
A corroded wax ring is replaceable. You can buy a new wax ring in any hardware store. However, you must know the exact size of the existing toilet flange before buying a new wax ring.
While there is a standard wax ring size, your toilet flange may require two wax rings in different sizes or a thicker alternative. You may need a thick flange to fill gaps if you have an uneven floor.
Some use a flange extender to fill the gap, but it would not be wise to assume what your toilet flange needs without expert guidance.
If you have old cast iron components, your toilet installment may be older than you think. Traditional installations are harder to find integrations for, and you can't just pile new components on top of old ones.
Toilet Leaking Prevention: Maintenance & Tune-Ups
There is no need for googling how to use a putty knife or what direction to turn your fill valve if your toilet flange is leaking.
It is best to leave the use of a utility knife and fill valve management to expert plumbers.
Fox Plumbing & Heating
You can assign your plumbing fixtures to the most reliable plumbers in Seattle, Washington. Fox Plumbing & Heating will deal with your plumbing problems efficiently and permanently.
You can book an online appointment for our leak detection services before water or sewage makes it to other rooms in your home. Water stains aren't only annoying to look at, they also invite mold and mildew into your home.
Feel free to call our hotline for any plumbing and heating concerns.
Don't worry. Our top-rated professionals have the necessary tools and techniques to clean your toilet and replace the flush valve.
Our team has a putty knife and is not afraid to use it! Whether it is replacing a wax seal or a fill valve, we can do it all. Our comprehensive list of services includes drain and sewer cleaning.
Don't worry. We can also deploy a team to work on your home's piping and repiping needs.
Call US NOW AT (206) 309-4240