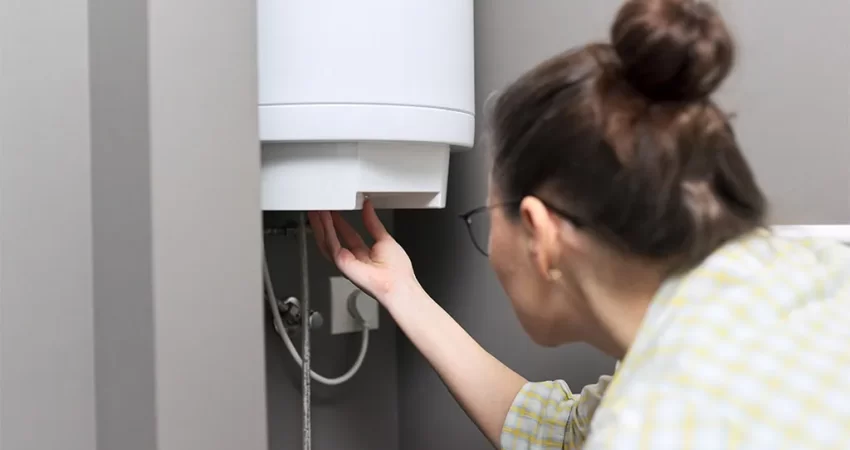 Why Is My Water Taking Too Long To Heat?
Your water heater should keep things steamy or cozy in the shower. However, your water heater may need fixing if you are consistently jolted by freezing temperatures.
If your water heater is compromised, you can expect temperature and pressure drop accompanied by spikes in your energy bills. Don't worry.; it happens.
Luckily, there are ways to figure out what's wrong and how to fix it. If your water heating system is acting up, read our article to learn what you should do next.
What if My Hot Water Takes too Long?
There are various kinds of water heaters. Depending on the kind of water heating system you have at home, there may be a simple solution to get the heat back into your morning shower.
First, you must know what kind of water heater you have. Is it connected to anything? Is it small? Is there anything attached to it?
Different Kinds of Water Heaters
Some of us can figure out which kind we have at first glance. However, you can also look at your heater's box, sticker, manual, or receipt to find out which kind you have.
Find yours below.
Tankless water heater
A tankless heater is smaller than most. You may find one installation in each bathroom.
A tankless water heater is typically the same size as your average carry-on luggage. They may be installed beside shower heads or underneath sinks.
A tankless water heater does not have a storage tank attachment but can still store hot water. Its storage can only hold up to nine gallons of water at a time.
Nine gallons may seem like little. However, a tankless water heater heats two to five gallons a minute. (7-15L/min)
It is an energy-efficient system that is also a space-saver.
Conventional water heater
A conventional water heater is the most common heating system in the United States. Different pipes are linked to one storage tank that comes in various sizes.
You might find it in your home's boiler or utility room. You can also find it in your basement or laundry room.
Smaller storage tanks may be installed in the cellar or crawl spaces.
A residential storage tank can be as small as 50 Gallons and as big as 80 Gallons. It is a traditional installation Americans use for instant hot water.
However, you may wait for hot water when its storage tank is depleted.
Heat Pump Systems
Heat pump systems are the latest innovation in temperature alteration. A heat pump may be used as an ambient or water heating system.
A hot water heater may serve multiple purposes. It can heat water to supply water outlets or for ambient heating. A hot water heater heats water underneath your floorboards to provide warmth indoors.
However, a heat pump used for heating water supply looks more like a tankless water heater. They are typically the same size as an average 50G storage tank.
It is a more energy-efficient system than most water heaters. You may wait for hot water when you miss some maintenance work.
Unlike most water heaters, heat pumps use ambient heat particles to alter temperatures. When there is enough sediment buildup, it may hinder its sufficiency.
What Causes Hot Water Heater Delays?
There are various reasons behind water heater delays. One of the most common issues involves hardware issues due to installation or maintenance.
Typical wear and tear include residue buildup. However, regular maintenance prevents minor buildup from turning into problematic clogs.
Sediment Buildup
Sediment buildup can stem from the residue left behind by minerals and microparticles in the water. Pollutants can also breed corrosion within pipes and valves.
Once corrosion spreads, particles may chip off and get stuck around inlets and outlets. Residue can hinder or halt your water heater's ability to produce hot water.
When residue surrounds the heating element of your water heater, it cannot heat water sufficiently or at all. It may turn cold water into warm water, but you can say goodbye to your hot water supply.
Residue sitting in the pipes does not only slow hot water. If the residue sits in cold pipes, it can put a damper on the hot water your water heater is trying to deliver.
If the thought of a quick cold shower or waiting too long for hot water is intolerable, we suggest you keep up with routine maintenance.
It doesn't only guarantee you get hot water faster but may help you save water and cut back on energy bills. Get hot water as soon as you need it by maintaining your plumbing system entirely.
Remember, not all corrosion- or clog-causing pollutants are artificial. Some sediment buildups are thanks to dissolved minerals.
Are dissolved minerals clogging your water pipes?
All that water sitting in your pipes may be contaminated with dissolved minerals. A surplus of minerals in your water supply isn't harmful to your health, but they do pose risks.
Conventional or tankless water heaters may function correctly, with all their attachments functioning as they should. However, minerals may get in the way of that.
A constant flow of hard water affects your water heater's efficiency in producing hot water.
Low flow fixtures
A low-flow fixture is used to save water. However, it does not delay water delivery.
How does that work? It works like a dim switch. It doesn't hinder electricity or cause flickering. A dimmer merely lessens the amount of light distribution.
A low-flow fixture will consistently deliver hot water at a reduced flow rate. Hot water should immediately come streaming as soon as you turn the faucet on.
Low-flow fixtures may only affect the pressure, not the temperature or the time it takes to heat. A hot water recirculation pump makes a great example of these fixtures.
Undersized Water Heater
An undersized water heater will almost always fall below your expectations. It will function correctly to the best of its abilities. However, a water heater that is too small for the house cannot fulfill the heating needs of everyone in your home.
Unfortunately, some contractors and plumbers cut costs by downsizing secondary yetsignificant installations. Homeowners often overlook water heaters or sit on the bottom half of their list of priorities, if it even makes it there.
Less reliable contractors may take advantage of this opportunity and fit your home with a smaller water heater. You may not initially notice, but it will become more apparent as time goes by, long after your warranty with your contractor expires.
Always conduct a thorough inspection followed by a meticulous evaluation after all fundamental or supplementary construction.
On-Demand Water Heater
An on-demand water heater (tankless water heater) can deliver hot water as much as you need. However, a short time gap should be expected.
It shouldn't be considered a "delay" as they may be part of the process. A delay takes longer than the usual you have come to expect from your water heater.
A gap lasting longer than two to five minutes is a considerable amount of time. A tankless water heater may stall while replenishing its supply, but turning it off for a few minutes should resolve the timing issue.
Ensure all connections are secure and properly placed to prevent further delays.
Faulty Water Pipes
Faulty water pipes are some of the most prevalent issues. Faulty is a broad term, but it includes all possible issues involving your pipes.
Loose connections and mismatched pipes may cause delays due to clogs and leaks. A clog or leak may also burst one of your pipes, leading to worse plumbing problems.
A delay in temperature shifts is one way you can tell if there's something wrong with your water pipes. You should call for a professional inspection if you notice water stains in odd places on top of the hot water taking too long.
How Long is Too Long?
It depends on the size of your water heater, recirculating pump, water outlet, and other factors.
The time it typically takes hot water to come out of shower heads and other outlets ranges between instantly and a couple of minutes.
However, your home may have additional installations that may affect timing. The best gauge is the time that you are already accustomed to waiting.
If it lasts longer than your usual wait, then something is causing a delay.
Hot Water Recirculation System Delays
As mentioned above, a hot water recirculating system is a supplemental installation that may be considered a low-flow fixture.
It may reduce the flow rate of your hot water, but it should not delay its production.
Your Water Heater's Flow Rate
Your water heater has its own speed. Some hot water heaters come with various speed settings. A simple adjustment may alter pressures and temperatures to suit your liking better.
However, a water heater may also only come with a standard setting. You may only toggle the water heater ON/OFF. If those are your only options, there must be something within its transmission causing the delay.
If the water pressure seems off or your water heater continues to behave unusually, it's time to call in the experts.
Scheduling a Professional Inspection for Your Water Heater in Seattle, Washington
Awater heater tune-up must already be in your routine. You may find your plumbing system acting unusually when you miss your annual tune-up.
Remember, the routine check-up and maintenance of your plumbing pipes, inlets, outlets, and devices are not an added expense. They are vital for upkeep and longevity.
The expenses you pay for maintenance and tune-ups are necessary expenses that should never be taken for granted.
Fox Plumbing & Heating
At Fox Plumbing & Heating, our team prioritizes your peace of mind. We don't want you paying a surcharge on your energy or utility bills any more than you do.
Leave your worries, lackluster and lukewarm water behind.
We will ensure your water heater lives up to its potential. Call us now for an inspection.
Call us now at (206) 654-4986