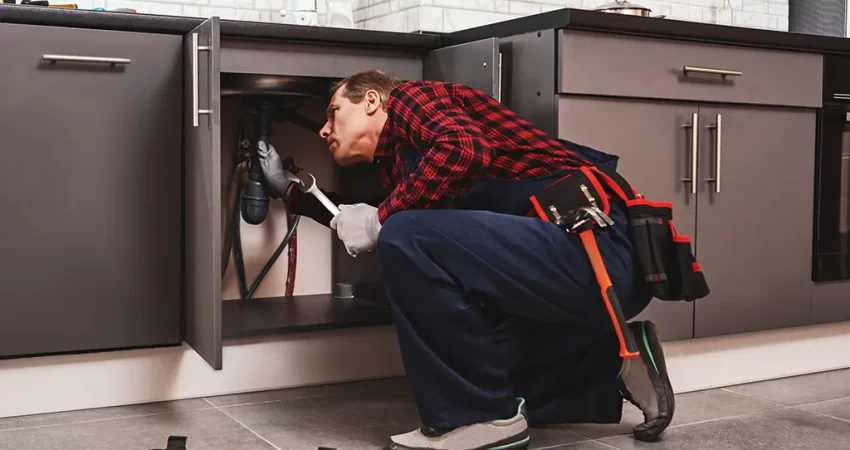 Home Remedies For A Slow-Draining Tub
Is your bathtub draining slowly? Too slowly?
If you are wondering: how slow is too slow and if there is anything you can do about it immediately, the answer is yes.
Sometimes, you can attribute a slow-draining tub to the standing water in your pipes. When soap scum and other residue stick to pipe walls, any lingering debris can lead to severe clogs.
Don't underestimate the impact of the slightly visible gunk on your drain stopper. A drain clog can start off small but may eventually lead to more severe clogs.
If your tubs, sinks, showers, or floors drain slowly, it's time to break out the baking soda and vinegar mix.
Do You Have Clogged Drains?
The first indication of a clogged drain is slow-draining water. There may also be some backflow, spurting, or gurgling.
A bathtub filled to the brim with water also indicates clogged drains. Your bath's overflow caps the tub's capacity to a certain level.
An overflow prevents water from overflowing and flooding into the bathroom floor. The pipework underneath may be compromised when water begins to flow out of the tub and onto the floor.
How to Inspect a Clogged Drain?
While there are some easily noticeable signs, there are some indications you won't catch until further inspection.
You can inspect your bathtub drain using a few household items. It would help to have more professional tools, but a simple examination may already give you enough insight.
Here's What You will need:
Flashlight
Gloves
Wire coat hanger
Washcloth or paper towels
You can see right into the drain with a flashlight. Still, you may only see the surface without the other tools listed above.
You can use an old wire hanger for fishing things out or move guck around to see deeper into the drain. It would be best to have some paper towels or a washcloth handy for wiping and soaking.
You may also use your hands to move things around, which sounds nauseating without wearing gloves.
"The drain stopper comes off, and the gloves come on."
Plastic gloves sound like an economical choice, but they tear more easily. You can also use rubber gloves, but they might have too much give to fit down pipe walls.
Wearing latex gloves is the most convenient protection in handling any plumbing fixtures. Latex is both flexible and form-fitting.
Still, anything that provides a sufficient layer between your skin and grimy debris alongside soap build-up is good enough.
If you see anything during the inspection, gauge whether you can deal with it or need professional assistance.
The Best Home Remedies for Clogged Bathtub Drain
Whatever is underneath the drain cover may be clogging your drain lines. A blocked bathtub drain is bothersome enough, but it won't stop there.
Leaving minor blockages for too long will lead to more severe clogs. You can clear drains with regular everyday items or even just hot water.
Bathtub Drain
A bathtub drain may face different challenges, facing elements your kitchen sink or shower does not.
Bath oils, salts, bombs, and petroleum jelly are some of the most common things used in the bathtub. If you took long dips in practically boiling water, it isn't enough to cancel out all the different elements going down the drain.
Hair, microplastics, and soap residue may also prevent water from draining quickly or entirely.
While running hot water down the bathtub drain after every bath is helpful, larger pollutants won't just melt away. Chemical solutions are a typical go-to, but the harsh chemical reaction may impact your pipes over time.
You can use a home remedy to dislodge them from pipes to drain with the rest of the water.
Organic Remedies
If you are ready to run out and buy some industrial solvent, hear us out: strong chemicals may cause corrosion.
Don't rush out to buy a milder solution just yet. You can use great natural alternatives that work just as well as industrial solvents.
Say goodbye to the standing water in your bathtub drain with a mildly acidic solution made from ingredients in your kitchen. Don't worry; we'll walk you through it.
Now, we already know the efficacy of the boiling water trick, but there are additional steps you can incorporate.
Step 1: Boiling Water
Pouring boiling water down the drain is great at clearing grease. It also kills harmful bacteria, ridding your bathroom of unpleasant odors.
Put a pot on the stove and heat up to two liters of water until it reaches a rolling boil. Take the drain cover off and slowly pour boiling water into your bathtub drain.
Wait a minute…
(You can skip this step if there's already standing water in your bathtub drain)
Step 2: Baking Soda
After slowly pouring boiling water down the drain, you may hear some gurgling. Don't panic; those noises are normal.
Take one cup of baking soda and pour it down the drain. One cup should be enough, don't add too much, or it may lead to clumps later.
Baking soda is a natural leavening or crystalline that looks like fine table salt. It is alkaline and reacts with anything acidic such as citrus and vinegar.
Step 3: White Vinegar
Follow the baking soda with equal parts white vinegar to create a strong foam-like substance. It should bubble up and produce hissing noises.
The organic chemical reaction creates carbon dioxide (CO2), lifting grime, grease, and micro-particles off any surface. It isn't harmful to touch, but inhaling too much CO2 can cause dizziness.
Ensure you wear a mask if you have sensitive sinuses. You should also wear gloves if you have easily irritable skin.
The baking soda and vinegar mix is organic but can still irritate sensitive skin, triggering hives and rashes.
Step 4: Flush & Drain
Give the fizzing enough time to settle and remove particles from your pipes. You may see the standing water begin reducing as soon as you apply the vinegar.
The baking soda and vinegar mixture stops fizzing after a couple of minutes. However, let it sit for at least ten minutes before washing it with more hot water.
You can start boiling water while you let the mixture sit before pouring it down the drain. You may also run hot water directly from the faucet down the drain.
Choose between hot or boiling water. Don't follow the mixture up with cold water to avoid clumping and the hardening of any residue still left behind.
Step 5: REPEAT
You can test the drain by filling your tub with water at least a few inches tall. You can repeat the process again if there is still a slow draining issue.
Considering it is an organic mixture, you may repeat the process again and again. Seeing a more visible difference can be satisfying after a few rinse, lather, and repeat steps.
Standing water still in the drain indicates there are more severe clogs down there.
Optional Step 6: Plumbing Snake (Do It Yourself style)
Pouring white vinegar can only rid your pipes of grime and grease. It cannot get rid of or prevent hair clogging. Have you ever used a plumber's snake?
Snaking your drain isn't a home remedy everyone is keen on doing. Integrating hair snakes into your drains helps you avoid manually pulling and picking at anything.
A drain auger is a staple in every professional plumber's arsenal. A plumber's snake is long and often made of steel but should only be used with sufficient know-how.
Using a metal plumber's snake haphazardly may damage your pipes and cause more problems. If you want to snake your drain, use a thin metal wire and fashion its end into a fish hook.
You can also use flexible pipe cleaners to brush off loose pollutants and collect hair from drains.
You may also use a sink plunger to create a necessary vacuum to coax clogs up or down. A toilet plunger will do, but the thought may nauseate you the next time you go for a soak.
A sink plunger also allows users more mobility, making it more manageable. Using the plunger technique properly helps unclog drains faster.
Reliable Plumbers in Seattle, Washington
It may be time to call a professional plumber if the thought of snaking, carbon dioxide, and sewer smells doesn't entice you. You should also call for professional assistance if you don't know what you're doing.
Don't worry; you can call a reliable plumbing expert in Washington!
Fox Plumbing & heating
Call us if you are tired of throwing bicarbonate soda down your drain and picking hair caught on scum from your pipes. We do it all!
If your plumbing has problems, we have solutions. Our drain cleaning service is efficient and affordable.
The latest and safest tools used by our experts guarantee you never have to stare down the barrel again. We do more than clean!
There's nothing we can't do and won't do for our clients. Leave your worries to us if you need anything from maintenance to new pipe installation and water heater repair in Seattle.
Are you Tired of your slow-draining tub? Call us now at (206) 654-4986