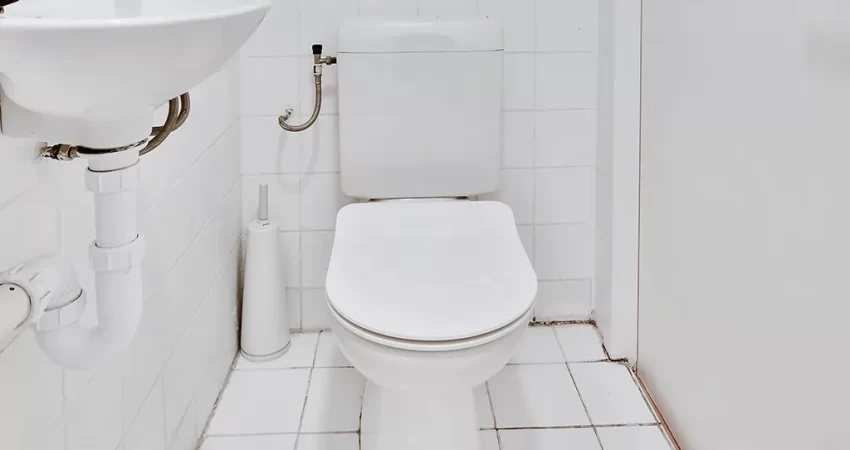 What to Do When Your Toilet Is Gurgling?
Glug glug glug…the toilet is making that noise again!
What's wrong with your toilet gurgling? The problem isn't just all the noise it's making.
A toilet gurgling can indicate clogs or problematic plumbing fixtures in your main sewer line. It's better to call a plumber to inspect your drains in case you need plumbing repair.
Please don't dismiss your toilet gurgling as a minor concern without having professional plumbers weigh in first.
Worried About Your Toilet Gurgling?
It would be best if you didn't panic, but reaching out to specialists is prudent.
The toilet gurgling may involve tough clogs in drain pipes or vent stacks that only a professional can help you fix. However, plenty of other reasons cause a toilet to gurgle.
Let's break down those toilet gurgling sounds and other strange gurgling noises coming from your bathroom fixtures.
What Causes a Gurgling Toilet?
Some gurgling toilet causes are more obvious than others. Any clogs in the drainage system is enough to cause gurgling.
A clogged toilet causes unusual noises, which may include gurgling. The sound should go away once you clear the clog. However, you may need help deciphering the cause behind a loud, lingering, or chronic gurgling toilet.
Clogs
A clogged toilet gurgling may stem from anything caught within the drain system. You may see it from the drain hole if it's large enough. However, a clog within the drain pipe is harder to spot.
If you don't know where to look, you may miss clogs that can't be seen within the toilet bowl. A clogged municipal sewer line is another problem.
Homeowners don't always know where the main sewer line is or how to clean it. Some clogs may be easily dealt with using a sewer snake.
However, a plumber's snake is sturdier and better suited for main drain and sewer line clogs.
Faulty Pipes
If you look into the toilet bowl, you will see the drain hole. It is where water is flushed down before entering the drain line. A blocked drain line causes toilet bubbles along with gurgling sounds. If you notice this combination, call for expert inspection immediately.
You can avoid clogging drain lines by disposing of toilet paper correctly. However, a blocked vent stack is harder to avoid.
Blocked Vent Stack
The vent pipe is a vertical pipe leading upward to the structure's highest point, surpassing any caps, covers, and blockages. The vent pipe requires open ventilation to facilitate air pressure within your plumbing.
Avoid placing any fixtures with detachable fabrics around the vent pipe. If you notice a bird's nest around plumbing vents, removing them immediately is best.
Birds and other small animals are best kept away from the vents to avoid infiltration. A weird gurgling sound may be caused by an animal caught within the vent stack.
Even the carcass of a small bird or rodent within the vent stack can cause serious plumbing problems.
Water Pressure
Enough pressure can cause a toilet gurgle. Water pressure may be too strong, causing disruptions in the water flow of your whole house. However, the stronger the water pressure matched with smaller pipes may be enough to create a reverse suction like a clogged vent stack.
High-pressure water is great unless your pipes are too small, and a water pressure that is too low may result in blockages causing toilet gurgles.
The key is to find the right size for your drain pipes to accommodate your area's water flow.
Debris Buildup
Debris building up is something you can expect from the toilet sink, drain, sewer pipe, sewer drain line, and any other components. The buildup doesn't have to be foreign or caused by things ditched into the toilet.
Debris buildup may be caused by tree roots in your sewer drain pipe or municipal sewer line, creepy crawlies getting stuck in the sewer cleanout or mineral deposits from supply lines.
Water supply may be "hard water," producing a surplus of minerals which may cause a drain line blockage.
If you notice whitening around your sink, your water supply is likely carrying a surplus of calcium and other minerals. You can install water softeners to prevent buildup in your plumbing.
Call a plumber to check the overall condition of your pipes and the state of your water supply.
The Most Common Causes of a Gurgling Toilet
The most common issues causing a toilet to gurgle and how to avoid them are already listed above. If you aren't keen on calling the pros, there are some things you can do.
However, a bubbling toilet gurgling may indicate serious problems. It would help if you asked for expert plumbing repair.
Clogged Drain Line
A clogged drain line may be resolved using a drain snake. You can borrow one from friends, buy one in the local hardware store, or fashion one out of old wire hangers.
However, please don't thrash it around the toilet bowl. You may cause more damage to a sewer pipe and cause more problems than a bubbling toilet.
Before using any auger on your toilet, try using chemical or organic drain cleaners first. A little Roto-Rooter may remedy a toilet bubbling due to a minor clog.
However, you will need a sewer snake if there are clogs within the municipal line. You must stay out of the municipal sewer main line if you don't possess the necessary tools and techniques.
Negative Air Pressure
Always look for toilet bubbles in your toilet bowl (or toilet tank) when you hear a gurgling noise. They may indicate problems with your vent stack rather than a blocked drain line due to faulty air pressure.
A professional plumber can tell you whether the toilet bubbling is coming from a clog in the drain line or negative air pressure somewhere in the vent pipe. It is more hazardous for a vent pipe to be clogged due to the invisible hazards they pose.
Poor Maintenance and Installation of the Plumbing System
A professional plumber will help you determine whether your pipes are disrupting water flow or causing hindrances. Remember, larger pipes require sufficient flow, while smaller pipes are better for decreased pressure, such as in sustainable regions.
Water pressure affects everything from the supply in your toilet tank, and the outflow toward the toilet drain. Any mismatches may result in the same negative air pressure as blocked vent pipes which releases exhaust gas into your home.
Is a Gurgling Toilet JUST a Nuisance?
It isn't pleasant, but that's not all it is. A gurgling sound may come from various causes, such as negative pressure. A minor cause may quickly snowball into worse issues and result in total system failure.
Say hello to your pipes bursting, fixtures leaking, and basement flooding. That's a lot of water damage.
On top of the initial catastrophe, mold and mildew are often related to poorly maintained plumbing systems.
Can a Gurgling Toilet Affect My Family's Health?
Negative air pressure in your vent stacks allows all that wastewater to flow back into your home. Worse, the backflow isn't always in solid or liquid form.
Gaseous backflow emits dangerous sewer gases into your bathroom and possibly into other living spaces in your home.
The gassy sewer odor you are inhaling isn't just funky or smelly. They are toxic to your health and may cause acute or chronic respiratory illnesses.
You may experience one of the following symptoms:
Dizziness
Fainting spells
Sore throat
Coughing
Allergies
Acute upper respiratory illnesses
Nausea
A Gurgling Toilet Can Lead to Serious Plumbing Problems
You can avoid clogs by observing proper bathroom etiquette, especially if you aren't home. Whether at home or as a guest in someone else's, avoid disposing of paper towels, napkins, cigarette butts, wet pipes, and other fabrics down the drain.
Foreign objects will halt water flow and cause a drain line blockage. It is bad enough to deal with a clog, but allowing a toilet paper pileup to spiral into worse problems may lead to costlier remedies.
The Proper Maintenance and Repair of Your Plumbing System
You can't rely on duct tape and baking soda forever. You need to learn how to use a plumbing auger to avoid causing more damage. A toilet auger is more manageable for non-professionals but cleaning our vent, and drain pipes should be left to professional plumbers.
While we believe there is plenty you could do by yourself, it doesn't hurt to hire a helping hand you can trust. Don't hesitate to call in professionals for your plumbing concerns.
Get Rid of Your Plumbing Problem with Fox Plumbing & Heating
Saving a few dollars to clean and repair your home's plumbing is great. Still, you risk causing more problems by going at things alone. Don't count on your garden hose getting rid of all those tree roots around sewer pipes.
Leave your worries to us. At Fox Plumbing & Heating, our pros know exactly what your home needs and how to do it using only the most cost-efficient techniques.
Don't let your toilet gurgling stump you. We are here to help!
The Fox Plumbing toilet repair, sewer cleaning, piping, and repiping services will keep your plumbing working brand new.
Need Help With Your Plumbing Issues? Call US NOW AT (206) 309-4240