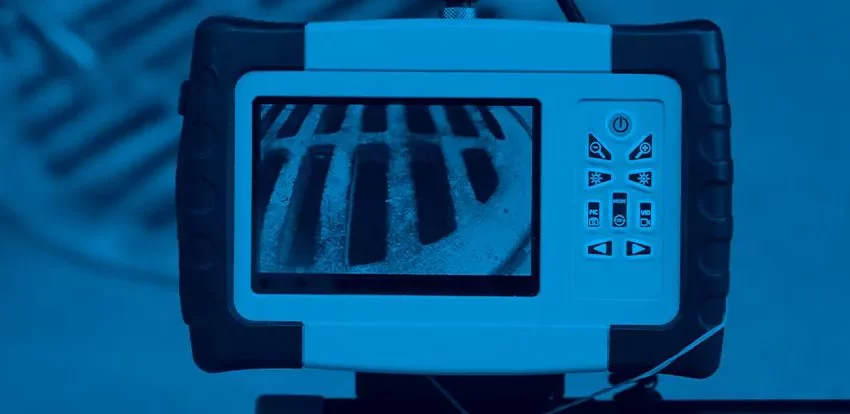 Sewer Camera Inspection
A clogged sewer line is not any homeowner's idea of a "good time." It takes forever for your drains to clear. Plus, you're left with foul-smelling odors plaguing your house.
A sewer camera inspection is a technique used by plumbing professionals to diagnose sewer line issues like pipe damage and clogs. It's important for a homeowner to know what camera inspection is, to ensure they don't pay top dollar for inadequate services.
If you suspect your sewer lines are clogged or you simply want to prevent problems from developing, you should consider getting a camera inspection. Let's go into detail about how a camera inspection works and what benefits it has for homeowners.
What is a Sewer Camera Inspection?
A sewer camera inspection is a method used to check sewer pipes and parts for any clogs or damages. Other terms used to refer to this technique include "sewer video inspection," "sewer line video inspection," and "visual inspection."
Plumbers use a waterproof video camera strapped to the end of a flexible cable to inspect the insides of your sewer line. This camera "snake" is inserted into the sewer pipes and guided through the lines to get a clear visual of the whole situation.
Sewer inspection cameras are made from high-quality materials and can be used in subterranean pipes behind walls, pipelines covered in concrete, or beneath your home's foundation.
How Do Sewer Line Cameras Work?
No homeowner would want to dig up their entire yard to find a pipe clog or leak. Not only would that destroy your property and aesthetics, but it would also leave you with a hefty bill at the end of the day.
The great thing about sewer camera inspections is that they allow you to find what's causing your pipeline issues without digging a huge hole in your yard.
Plumbers insert a flexible snake-like cable into the sewer pipes until it reaches the section where a problem originates. Camera transmitters capture the distance and depth of the affected area's location, sending video messages back to the plumber, who may then use the data to determine the best solution for the situation.
Bright LED lamps are mounted to the cable, allowing the camera to record images even in complete darkness.
When Should You Use Sewer Camera Inspections?
Plumbing systems require regular maintenance and care to stay functional throughout the years. If left unattended, debris and dirt can accumulate in your drains, causing clogs and backup issues. Clogs can increase the water pressure within your sewer lines, emphasizing the risk of developing cracks and leaks.
Repairing underground pipes can be expensive and time-consuming. To avoid falling into such an unfortunate situation, getting reliable plumbing services from a professional plumbing company is key.
If you're a homeowner and are unsure when the appropriate time to get a camera inspection is, this information is for you:
Sewer Lines in Older Homes
If you own a home that's over 20 years old or if you're eyeing to buy one that's around that age, it's highly likely that your house will have one or two sewer line issues.
Your sewage plumbing may still be linked to a cesspool if your house was constructed before a proper city sewer line was installed. Cesspools pose a major risk of sinking and collapsing. Rerouting your sewer pipes to the city's sewage main might not be enough to prevent any accidents.
Ensure your sewage is up to code and eliminate any possibility of costly issues with a professional sewer video inspection.
Sewer Line Backup Problems
Is your toilet not flushing or plunging well? Perhaps you see bubbles when you flush the toilet or when you drain your sink? These are all signs that your sewer line could be backed up.
Grease, food, paper, and other debris can accumulate in your sewage pipe over time. Unfortunately, if not remedied early, small issues like clogs, cracks, and leaks can easily develop into larger and more expensive problems down the road.
Most people put off sewer camera inspections, thinking that it's expensive and unnecessary. However, getting a sewer camera inspection is more cost-effective than getting plumbing repairs.
A camera inspection can help you determine the cause and solution for your sewer line issues. It also saves you from bigger and costlier damages to your house.
Infiltrating Tree Roots
Trees naturally seek out water sources as they develop. If your sewer pipes have even the smallest crack, tree roots may grow into the pipe to reach the water inside.
Older pipes are made from cast iron, clay, or other porous materials—which makes it easier for water to escape. To monitor the integrity of your pipelines, contact a plumber to conduct a sewer camera inspection.
Sagging Sewer Pipes
Sewer pipes may also begin to sag over time, due to overuse and water pressure. When this happens, repeated blockages can occur, which results in your sewer lines backing up.
We recommend getting sewer camera inspections at least once a year. Your plumber can help you determine when your home's pipelines have begun to sag.
Benefits of Sewer Camera Inspections
Camera inspections provide various benefits to homeowners. The following are just some of the most common advantages of professional sewer camera inspection:
1. Affordable and Non-Invasive
The cost of a sewer camera inspection is not as expensive as most people believe. Considering how it doesn't require any excavation or trenching to diagnose a leak, crack, or blockage, it's actually more affordable than other solutions.
If you want to get a clog fixed quickly, you can save money by getting sewer line video inspections.
2. Detect Pipeline Issues
The great thing about a video inspection is that it can detect a wide range of issues. From a collapsed or broken pipe to a clogged drain, sewer cameras can uncover practically every perceivable problem.
NOTE: Regardless of how effective camera inspections are, it's crucial to remember that a sewer camera alone can't always detect leaks and other issues. It may be the initial step in identifying possible problems, but the plumber should do further tests to be certain.
3. Monitor Sewage Pipe Health
The cost of sewage pipe repair or replacement can be expensive. To avoid such a high price, you should consider getting regular maintenance with sewer camera inspections. Your plumber can monitor the condition of your pipelines and make sure that everything is clean and functional.
4. Prevent Property Damage
Sewer water can be toxic, and a leak can put you and your loved ones at risk of infection and other health conditions. Regular inspection can prevent small issues from escalating to more expensive problems. Plus, it ensures your family's safety throughout the years.
Types of Sewer Pipe Repair and Replacement
There are two types of sewer pipe repair and replacement techniques: Traditional and Trenchless.
Traditional Repair and Replacement
Traditional repairs refer to the method wherein technicians dig a trench on your property to determine which pipeline needs repairs or replacements. This was a perfectly acceptable fix back in the day, seeing as they didn't have less invasive alternatives.
Nevertheless, this method can cause significant damage to a person's home and yard. It's no wonder why people try to avoid this option whenever possible.
Unfortunately, there may be cases when an excavation may be the only way to fix a problem. Talk to an expert to find the best solution for your problem.
Trenchless Repair and Replacement
Trenchless repair uses video as the main tool to identify issues in a home's sewer system. It's much less invasive and destructive than the previous method.
Trenchless pipe repair requires the plumber to create small access points to the damaged section. They then insert a small cable through these points and simultaneously draw the new pipeline into position.
Professional Plumbing and Heating Solutions
Sewage line issues are part of every homeowner's experience, regardless of their location. Unfortunately, there's no straightforward way of knowing when your drain lines will give out or when gunk, dirt, and grease will cause blockages in your pipes. The best thing you can do is schedule regular inspections with a plumbing expert.
Plumbing companies have access to high-tech equipment that can make diagnosing and fixing sewage problems easier and faster. Professional plumbers undergo training and education to provide customers with effective and ethical solutions. Working with these experts can secure the overall safety and integrity of your home.
Get Our Expert Services
If you're looking for professional and cost-effective services in Seattle, you've come to the right place for help.
At Fox Plumbing and Heating, we prioritize the safety and satisfaction of all our clients. Our company strives to provide the highest quality services with the careful assistance of our experienced technicians and staff.
Our plumbers have been trained in the latest practices and methodologies to ensure our clients receive nothing but the best solutions. Equipped with years of training and assessments, our experts are skilled in all the latest technologies and tools. Whether you're looking for professional sewer repair or sewer cleaning, you can rest assured our workers will help you with your problem.
Call us at (206) 309-4240
We look forward to providing you good service!