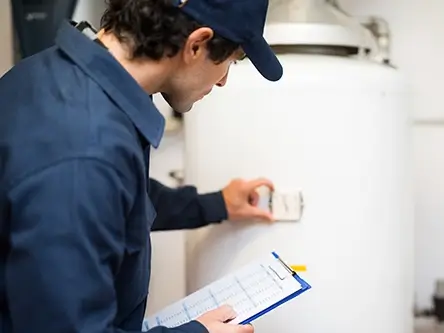 Should I Insulate My Water Heater?
Yes. There are even utility codes every water heater in Seattle must observe, which include insulation.
Insulating your water heater is more than just keeping up with local regulations. Insulation helps maintain your water heater to reduce standby heat losses.
What is Water Heater Insulation?
Need to learn more about heat retention and its impact on your home's energy consumption? Your water heater generates and stores heat. Without insulation to prevent heat loss, your water heater has to keep reheating the supply stored in its tank.
Are water heater insulating jackets necessary or beneficial? As we mentioned above, it is both. Water heater insulation is required in every conditioned air space in any residential home in Seattle, Washington.
Legally speaking, insulating your water heater is necessary. However, as per the United States Department of Energy, it is more than a utility code. Mandating insulation is a step geared toward nationwide energy efficiency.
How Do Insulating Water Heaters Benefit My Home?
A water heater insulation blanket helps the tank retain hot water temperatures, shortening heating cycles and lightening its burden.
Energy Savings
Your water heater using less energy leads to more savings. Shorter heating cycles lead to lesser power consumption, which reduces monthly bills. Energy savings means more money in your pocket and less wasteful consumption.
Sustainable Heating
Lessening any unnecessary consumption minimizes your carbon footprint. Joining community efforts to lessen our collective impact on the environment may appeal to you like a moral obligation on top of your legal one.
Energy savings and sustainability are great selling points. Still, you can't just throw an insulating jacket on your water heater tank and call it a day.
Is Your Water Heater Up to Code?
Don't have the faintest idea what your local codes are? Don't worry. Only some of us know there are any to observe. We often leave the codes, permits, and other technical aspects to the contractor. However, it helps to familiarize ourselves first-hand.
Read through the next section to learn more about Washington's utility codes for your home's water heater.
Washington Utility Codes for Water Heaters
According to Washington's Residential Utility Code > Water System Design Guidelines > Chapter 5: WAC 51-56-0500 & WAC 51-11C-40406
You must submit all forms for all requirements for any new or expanding water system.
All heating, ventilation, air-conditioning, lighting, and piping systems shall observe judicial standards under Washington ordinances.
Consumer electric storage water heaters must meet modular demand response communications port compliant with the March 2018 version of the ANSI/CTA-2045-A communications interface standard.
A water heater tank and all pipe connections must be properly insulated according to Table C403.10.3.
All insulation must provide enough protective thickness to surround the entire frame of enclosed tanks, hot water pipes, thermal bridges, hangers, and supplemental support.
It's a lot to take in at first. However, it's actually pretty simple. Washington's efforts to conserve energy and observe safety include insulating your water heater; up to standard, no less.
Water heating energy is one of the largest contributors to your home's heat loss. Next to windows, a hot water heater produces the most waste heat. There are state standards your water heater insulation blanket must observe.
What are the U-factor and R-value?
The U-factor is the rate at which non-solar heat flow is transmitted. A lower U-factor means lesser heat loss. A new water heater typically has a .65 to .95 U-factor. An Energy Star-certified water heater rates lower between .5 to .7.
Most insulation blanket kits provide additional insulation of up to an R-value of 3 per inch. The R-value accounts for built-in insulation and the capacity to reduce standby heat losses. The higher the R-value, the better the insulation.
The Department of Energy recommends insulation blanket kits add no less than an R-value of 8 per inch. However, depending on your home's surface area, you may not need additional insulation. Ensure your water heater has at least an R-value of 21 insulation.
Heat Loss Prevention
Check your water heater tank or unit to find out if your water heater has efficient values. The higher the R-value and the lower the U-factor add up to reduced water heating costs. Some water heaters may need insulation blanket kits to help manage your energy bill.
Your water heater is a significant heat loss generator and may need an insulating jacket. Insulation blankets are a low or no-cost remedy for heat loss recovery. Insulation blankets on your water tank prevent heat loss, effectively cutting energy costs.
Depending on the type of hot water heater, there are various techniques to maximize energy savings.
Do You Have an Electric Water Heater?
An electric water heater may exclusively use power to fuel your water heater. Your electric water heater may lead to higher water heating costs, especially with poor insulation. An electric water heater mostly comes as a tankless installation.
However, there may be tanks attached to your electric water heater. Don't worry about covering its access panels. You can wrap the blanket around the water heater tank, even insulating underneath the bottom board to further prevent heat loss without compromising accessibility.
You may leave one or two panels accessible on your hot water tank. However, leaving only one access panel helps your electric water heater save more energy. An electric water tank with insulation blankets is certainly more efficient than a gas heater.
Do You Have a Gas Water Heater?
The words "gas water heater" and "energy savings" don't make the most cohesive pairing. A natural gas-burning water heater is already pretty inefficient, but adding poor insulation to the equation makes efficiency nearly impossible.
Your gas water heater may need an insulating blanket to achieve proper insulation. When it comes to a gas water heater, ensure you cover it entirely, even insulating underneath to cover gas valves and supply lines linked to its bottom board.
An insulating jacket may be more helpful for your gas water heater. If you really want to save energy, opting for more sustainable heating systems may be a better route. You also won't have to deal with the danger of a faulty gas valve.
Are Electric Water Heaters Better Than Others?
An electric water heater is sometimes better, but it is generally more sustainable. However, water heater insulation plays a significant role in efficiency. A poorly insulated electric water heater can be just as inefficient as a gas water heater.
An appropriately-sized water heater may be more efficient than an oversized electric water heater, consuming more energy than is necessary to heat your home. Excess warmth constantly flowing through your ducting may lead to significant heat loss.
While electric water heaters have the potential to save energy, various factors can impact their capacity to do so.
How Can I Wrap an Insulating Blanket Around Gas or Electric Water Heaters to Save Energy?
Water heater-insulating is easier than you think. Getting an insulating jacket for your water heater is easy and comes at low or no cost at all. However, you need to know the size of your water heater to insulate its tank correctly.
Still, remember to take a few notes from experts regarding your home improvement project. After a quick course in home improvement, turn your water heater off and head to the store.
Here's how you can contain water-heating energy with most insulation blanket kits.
Measure your water heater tank or tanks.
Go to the local hardware store to find an insulating blanket that fits your water tank.
Get insulation blankets in the right size with at least one or two panels featuring a ridged piece to use for the bottom board or as an access panel.
Remember to buy electrical tape to bind everything together. Also, get pipe insulation for your water heater tanks' pipes.
Once you have enough insulation blankets and electrical tape for your tanks and pipes, cross-check them with your list of measurements. If you need help, ask your local hardware store attendant to help you do the math.
Take your new water heater-insulating tools and get to work. You will be done before you know it. Again, keep your water heater off during the process. Cycling it off using the thermostat may not be enough; unplug it from the power source.
Wrap the blanket around your water heater tank.
Jot down where there may be an overlap.
Cut the excess off the insulation blankets until each end meets evenly down the middle.
Take one end and tape it to the exterior tank walls.
When you lay the tape, ensure there are no air bubbles by pressing it down in one fluid motion.
Pull the other end until it meets right down the middle.
Tape both ends to the tank walls, where they meet in the middle.
Secure the wrap by fastening it all together with more tape.
Make sure you wrap the blanket around the top and bottom board.
Remember to leave an access point for the electric panel.
Once your water tank is wrapped in the insulation blanket, your first step in home improvement is done. See? Water heater-insulating is relatively easy. You just have to cover the water tank in heat-resistant and durable material.
That blanket installation will only cost you little time, money, or energy. You can rely on more sustainable warm air this winter. Still, insulating is just part of the process. Energy efficiency takes constant care from your thermostat to the tank.
Do You Want Lower Energy Bills?
If your water heater struggles to deliver warm air and spikes your energy bill, there may be underlying issues causing power surges.
Your water heater is a sophisticated system that requires routine tune-up and other maintenance services. You could clean it or integrate attachments yourself, but you might cover the gas valve or access panel with a blanket by mistake.
Without knowing your hot water heater from top to bottom, you may damage systems by dislodging components and reattaching them to the wrong places. You may also cover areas that require ventilation.
Clogging ventilation and critical access panels may cause irreversible damage. It may lead to costly water heater repair when you improperly install integrations.
Insulating your hot water tank is different from suffocating it. An improperly built or insulated HVAC system may still "work," but you will notice spikes in energy costs.
Are You Considering DIY Home Improvement?
Cleaning and light repairs are doable and may be harmless. However, integration and installation may be different. Keep your hot water tank and the rest of your water heater safe and stable by hiring expert water heater installation.
Your water heater. Our tools and techniques. We can make your water heater great again! Call Seattle's finest plumbers if your water heater is acting up or you are struggling with insulating your hot water tank.
Call Fox Plumbing & Heating at (206) 654-4986 for professional assistance.