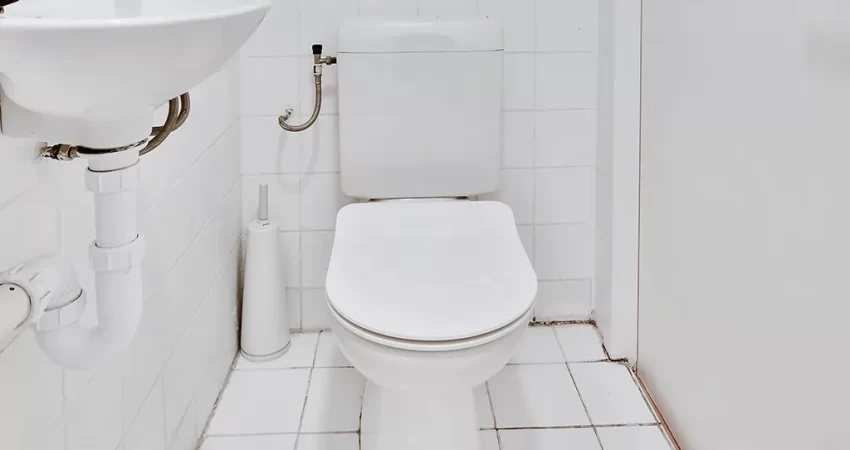 What to Do If You Accidentally Flushed Something Down the Toilet?
Uh-oh! What's up with your toilet bowl making all those noises?
Did you drop something? Is your toilet bowl gurgling? Is your toilet overflowing? Something is backing up your toilet bowl.
Luckily, a lost object down your toilet bowl doesn't have to stay lost forever. We will help you figure it out.
Let's get to it!
Drop Something Down Your Toilet Bowl?
Don't worry! A toilet trap should prevent foreign objects from going further down your pipes or infiltrating your septic tank.
Still, foreign objects flushed down the toilet poses many risks. A single object or too much debris blocking the trap causes clogs and may lead to backflow. It would be best if you fished anything out before they sneak into the trap.
You will be able to conduct a quick plumbing repair if you have a wire hanger, rubber gloves, and five minutes to read the instructions below.
Is a Foreign Object Stuck in Your Toilet Drain?
You just accidentally flushed something down the toilet, and your first instinct is to panic and poke around the toilet bowl. If there is something down there, you may struggle to fish for it.
There are various pipes within bathroom walls. Beneath your toilet tank, there should be a U-shaped toilet trap linked to the drain opening and your home's sewer line.
If the object is still visible within your toilet bowl, it hasn't been flushed down the toilet trap. You can still fish it out using an old wire hanger.
You can also fashion any thin wire into a drain snake. Just remember to integrate it with a small hook shape at the end.
Tips to Retrieve Items in Your Plumbing System
Please stop trying to flush it down. You may waste your toilet's water supply by incessantly flushing the toilet without the necessary water pressure.
You may also risk visible objects being pushed into the trap or sewer line. It is far more challenging to fish things out or to remedy a clog within an internal pipe.
However, leaving a flushed item there isn't the best idea. Clogged toilets are some of the worst culprits to linger in your plumbing system.
Here's what you can do to retrieve items that you may have flushed down the toilet:
Contact a Professional Plumber
Yes. There are no better alternatives to calling a professional plumber. Expert plumbers are knowledgeable, accurate, and careful.
However, plumbers may not treat accidentally flushing a toy, ring, or tissue cluster as an emergency. Scheduling plumbing services to retrieve something down your pipe may take longer.
If you are interested in enlisting maintenance services on top of snaking your pipes, professional plumbers are the way to go!
Use a Drain Snake
Without having more plumbing concerns, you may try to retrieve your child's toy from the toilet bowl on your own. Have you ever heard of a drain snake?
A plumbing snake or auger is among a plumber's staple tools. Having an auger in your house may come in plenty useful. You can go to the local hardware store to buy one, or you can make one yourself.
Makeshift Drain Snake
You can make an auger out of an old wire hanger. The Do It Yourself (DIY) method can be helpful here. However, don't just stick any rusty wire down your toilet bowl.
Here's how you can fashion an old wire hanger into a useable plumbing snake:
Untangle the wire hanger. Ensure it is straight, thin, and sturdy.
Bend one tip into a small hook shape.
Ensure the wire has a long enough reach while still providing a manageable grip.
You can now make use of your DIY drain auger. You can use them on more than just your toilets.
You can also pull things out of your main drain, waste pipe, or septic tank opening with your makeshift auger. You may also consider using a toilet plunger before and a drain cleaner after dislodging things from your pipes.
Use a Toilet Plunger
Using a toilet plunger isn't as cut-dry as you may think. You have probably observed others just sticking a plunger down their toilet drain, unclogging debris with each pump.
A toilet plunger is a simple tool used on more sophisticated systems. Each pump can impact all your pipes. If you don't know what you are doing, you may push more debris down, unwittingly clogging your sewer pipe.
The plunger method, used correctly, creates a vacuum that can wash away anything lodged in your waste pipe. The vacuum may work against you incorrectly, leading to clogged toilets.
Here's how you can use this method safely and effectively:
Lower the toilet plunger into the bowl at a slightly diagonal angle.
Gently trace the toilet's drain opening with the rubber edges of your plunger.
Cover the toilet bowl's drain (hole) entirely with the mouth of the plunger.
Hold the plunger's handle with both hands and bend your knees as you push down until you feel the force of suction.
Push down and pull up on the handle, only with your hands, while your knees remain bent.
(Be careful not to break the seal between the rubber and the toilet bowl)
Continue pumping up and down for ten to twenty seconds before breaking the seal and removing the plunger.
If there's anything lodged down there, you may see debris begin to flow upward. If there isn't a backflow, you may hear a gurgling noise, indicating toilet water flushing through the pipe.
How to Clean Your Toilet Drain Pipe
If you want to clean your plumbing system, start with the drain lines instead of the supply lines. Accessible drains are easier to clean and won't impact critical internal components as much.
You can also use a hook to fish shallow floating objects from standing water. You can follow it up with some drain cleaner to rid the inaccessible parts of your pipes of any scum and residue.
Using Drain Cleaners
A Rooter Plumbing solution can help your toilet flush down a lodged object or anything else stuck there. It is strong and effective, but it may hasten or instigate corrosion.
There are more gentle alternatives you can choose for your lines. You may also use organic solutions to clean your bolts and covers.
Industrial Solvent vs. Organic DIY Drain Cleaner
An industrial solvent is effective but may be made up of harsh chemicals. The solvent may contain copper sulfate or metam sodium. While not all solvents contain harmful chemicals, it's better to stick with gentle alternatives.
You won't always need Roto-Rooter Plumbing Solutions for clogs. You may have simpler clogs you can do away with using some hot water and other supplies you can find in your kitchen.
Do you know about the magic of a little white vinegar and baking soda mix?
Try pouring one cup of baking soda down your bowl and following it with a cup of white vinegar. You may find foam starting to build around the toilet's opening.
Don't worry; it won't seep into your toilet's water supply. However, let the eruption of foam subside before flushing again.
Here's an expert tip:
Turn off the water supply and flush the toilet.
Open the toilet tank.
Pour enough hot water (not boiling) to fill the toilet tank.
This ensures hot water follows the baking soda and vinegar mix down your sewer line. Any softened residue may be dislodged completely by the hot water.
Call a plumber for consultation if something is stuck in the pipes anywhere in your bathroom, even within the floor drain pipe. They may give you professional advice on how to approach various clogs.
Do You Need Professional Help?
If your toilet is clogged, but you aren't sure if you lost something down there, you need a professional plumbing video inspection. It works just like snaking your drains, but this time, there's a camera at the end of the auger.
The pea-sized camera is hooked up to a live monitor and helps plumbers get a scope of your entire system. You can see what's scumming up your pipes or find that ring you lost last week.
It also helps you better understand how your plumbing works. You might find all the clumps of tissue or hair you flushed down last month.
We already know that's a no-no, but some homeowners insist they paid for systems that make their home the exception to the rule. Remember, there are no exceptions.
Understanding what hinders your plumbing helps you maintain your fixtures better. Do not throw foreign objects down any drains. They might show up on camera later.
If you need an expert, we got the guys!
Call Fox Plumbing & Heating at (206) 654-4986
Are you tired of using Rooter Plumbing solutions for chronic clogs? Don't worry. There are reliable and affordable plumbing repair services in Washington within reach!
Get in touch with Fox Plumbing & Heating if you need thorough drain cleaning and expert sewer repair.