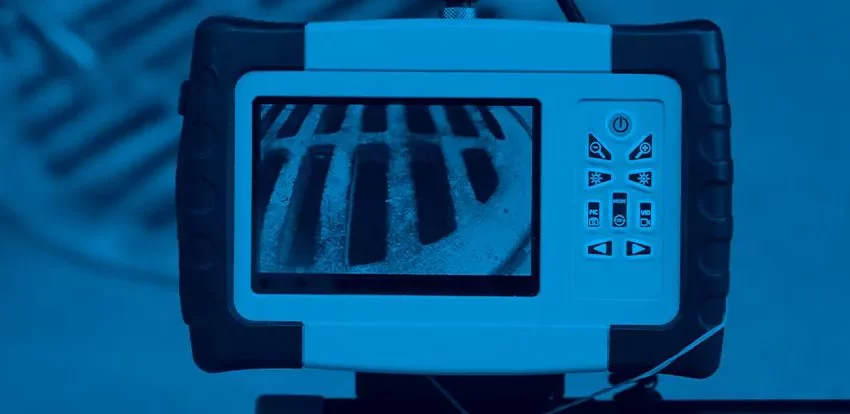 Hydro Jetting Sewer Line
Hydro jetting a sewer line is an efficient technique for clearing clogs, tree roots, hardened grease, and other debris. A common misconception is that sewer pipes can be cleared as easily as drain lines.
Your sewage pipes hold more sediment and debris. Snaking main lines won't rid them of clog-causing sediments such as grease or hardened oil on pipe walls.
Additionally, sewer lines are not as accessible, even through sewer line cleanouts. Hydro jetting may be your only shot at thoroughly cleaning critical pipelines of any residues and debris.
Find out more about hydro jet sewer cleaning below.
Why are Cleaning Sewage Lines harder than Drain Lines?
Your home's sewer line runs deeper underground than most augers can reach. Sewage lines are deep enough to harbor sediments and harmful bacteria.
Small tree roots blocking exhaust pipes can also stand in the way of proper water flow. Your home may suffer from frequent clogs if you don't get to the bottom of your main sewer line to clear clogs and growth.
Hydro jet service is an effective way to clear stubborn blockages and thoroughly clean your entire sewer system.
What's the Difference Between Snaking and Jetting?
You can draw clusters and other debris out of your shower with drain augers. Snaking drain pipes is a time-tested sure way to get small clogs out of your home's internal drains.
A hydro jetting machine is a high-pressure hose that flushes blockages down and clears pipes of grease and clog-causing sediments.
Snaking a drain can only do so much, but hydro jetting sewer lines is a more comprehensive means to end collective blockages.
Can I Substitute Drain Snaking for Hydro Jetting?
No. While jets and snakes share a primary function, they are not interchangeable. Substituting hydro jetting with drain snakes is like comparing a feather duster to a vacuum cleaner!
While it is sometimes like comparing apples to oranges, a drain snake can only compare to a hydro jet in terms of getting rid of clogs.
What is the Main Difference Between Snakes and Jets?
Highly pressurized water from your hydro jet does not only clear clogs. The high pressure and hot water remove grease and eliminate other things in your sewer line that instigate clogs.
It would be best to opt for a plumbing snake to recover something that fell into the tub drain. Drain snakes pull things up, while hydro jetting flushes everything down.
What is the Hydro Jet Difference?
Besides efficiency, hydro jet cleaning techniques differ entirely from plumbing snakes. Hydro jetting works with high-pressurized water to eliminate severe clogs and remedy slow drains.
The critical difference between hydro jetting and other methods is efficiency. A drain snake can effectively relieve your pipes of severe clogs, but hydro jetting is the only way to do that efficiently.
Picking at a massive clog piece by piece can take you forever to accomplish. However, hydro jetting sewer lines only takes one to two hours to eliminate any and all blockages
The Difference Between Drain Lines and Sewage Systems
A clogged drain is not as serious as blockages in your sewage system. One drain can be clogged with soap scum and hair clusters without affecting all the other drains.
However, drain pipes are more accessible; sometimes, you can even reach particles with your bare hands. Unfortunately, that plays into why hydro jetting is more effective.
Drain pipes are shallow and easy to reach. It can move past different access points and settle at the bottom of your sewer line. However, anything that passes a certain point may no longer be accessible from the drain opening.
Why Hydro Jetting is Better for Sewer Pipes
Taking a hydro jet to your sewer line is more effective and efficient than snaking drain lines individually because it attacks the last place everything goes.
A clogged sewer line backs up the rest of your sewage system, with the main sewer line being the end point of all draining systems. Emptying your sewer line promotes healthy water flow.
Remember, your sewer line plays the most critical role in your entire plumbing system:
The sewer line is the final plumbing attachment that bridges the gap between your home and the city's sewer lines.
If you have a septic tank, your main sewer line is the final point of extraction for sewage water to make it out of your house's internal plumbing system.
In both cases, a clogged sewer line sends sewage back to your drain lines, potentially up your home's drain openings, leading to backflow.
A single hydro jet session flushes anything and everything that descends from all of your home's drain lines.
What is the Hydro Jet Drain Cleaning Process?
Hydro jetting your sewer line can be complicated. It's more than just taking a hose to your sewer cleanout. Handling a water pressure machine with a maximum velocity of two hundred meters a second can be challenging.
To ensure safety, a vast majority of professional plumbers will take primary measures before deploying hydro jets. While it takes more time, these various preparatory steps are necessary before hydro jet cleaning.
The process includes a video inspection of your sewer line to ensure its condition. If your sewer line and other pipes are in poor condition, plumbers may suggest repiping or relining your pipes.
Is Hydro Jetting Safe?
The hyrdo part is safe; it's just hot water. It is the jetting part that can make it less harmless.
A hydro jetting service is generally safe except on damaged old pipes – not all fixtures can withstand intense water pressure. Corrosion in old pipes may easily succumb to high-pressure water.
Remember, the hydro jetting system is more intense than any pressure washer or water system you may have previously handled.
Which pipes can withstand hydro jet drain cleaning?
Copper, alloy, and cast-iron pipes are durable enough against various pressures. However, pipe damage can change the efficacy and safety of hydro jetting. Still, water and pressure leave no hazardous chemical residues.
Some drain cleaners use strong solutions to eliminate harmful bacteria and dislodge hardened sediments. Industrial solvents can damage even the strongest cast-iron pipes.
Hydro jetting is a safer alternative than most drain-cleaning techniques and solutions.
How Much Does Hydro Jetting Cost?
The leap to a slightly higher hydro jetting cost may not be jarring if you can already afford a professional cleaning service.
Traditional drain cleaning services cost anywhere from $250 to $750. Hydro jetting costs nearly just as much as other professional drain-cleaning services.
Hydro Jetting Sewer Line Costs
Generally, any service for the sewer line costs slightly more for maintenance, repairs, and replacement. A hydro jet drain cleaning starts at $250 but can cost as much as $1,000.
Some hydro jetting costs for sewer lines start at $350. Your sewer line has intricate pipe connections that are more challenging to access, and plumbers may need more equipment to facilitate their services.
Does Hydro Jetting Take Long?
Not at all! Hydro jetting costs less time to conduct than most cleaning services. It also poses fewer risks of serious damage that may require additional repairs.
Hydro jet drain cleaning services last sixty minutes or less. Whereas sewer hydro jetting can last up to ninety minutes. That's surprisingly hasty for how thorough it is. Sewer jetting a sewer pipe can start in the morning and through before you even serve lunch.
Your sewer line will be free of tree roots, toilet paper clusters, and hardened residue in nearly no time at all. The best part of it isn't only how efficient it is but how long it stays effective!
How Often Should I Have Hydro Jetting Services?
With just one session of hydro jet sewer cleaning, you can expect your sewer lines to stay clean for up to several years.
While hydro jetting can keep systems clean for years, tree roots and other environmental factors can quickly start creeping back into your sewer lines, even after it has been hydro jetted.
Just like any maintenance service, hydro jet techniques work best when paired with routine frequency. Professional plumbers recommend an annual hydro jetting to keep your sewer system clean.
What Can I Do to Protect My Drain and Sewer Pipes?
Observing proper maintenance tasks, such as regularly cleaning pipelines and discarding your trash properly, can save you from costly repairs and cleanups.
Additionally, routinely checking in with a professional plumber can prevent a minor clog from impacting your entire drainage system. Always deal with a clog immediately; you shouldn't wait for any debris to saturate your pipelines.
Getting to the root of the problem and taking measures to prevent a clog instead of just remedying it alleviates your home from needing a costly sewage backup cleanup.
Do You Need Reliable Plumbing Services in Seattle, Washington?
If you see backflow, hear unusual noises, and smell distinct odors coming from your pipelines, don't be so quick to dismiss it as "nothing serious."
Backflow can lead to burst pipes and water damage. A damaged pipe may also release hazardous sewer gases into your breathing air, leading to headaches, nausea, and vomiting.
Fox Plumbing & Heating
If you need help, our guys can get the job done! Fox Plumbing & Heating provides various sewer cleaning methods to homes all around Seattle.
Don't wait for a clog to reach your sewer line! Call us for drain cleaning services today!
Call the Fox Plumbing & Heating team at (206) 654-4986