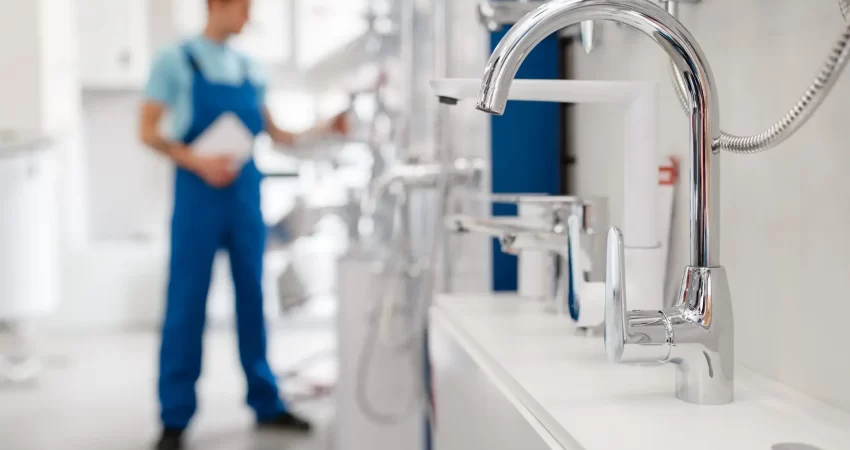 How to Stop Kitchen Faucet Dripping
It's 2 AM, and the entire house is silent except for the persistent, rhythmic dripping of the kitchen faucet.
Each drop is a reminder of the water being wasted, and the impending increase in the utility bill.
This common yet often overlooked issue can be more than just an annoyance. Addressing a dripping faucet promptly is essential to conserve water, save money, and maintain the integrity of your plumbing system.
In this comprehensive guide, we will walk you through the steps to diagnose and fix a dripping kitchen faucet, ensuring peace of mind and a silent, drip-free night.
What Causes a Dripping Faucet?
Before we jump into how to fix a dripping faucet, it's important to first understand why faucets drip in the first place. Here are the common culprits:
A. Damaged O-Rings
O-rings are essential components found in the faucet handles. These small rubber circles play a crucial role in preventing water leakage.
However, over time and with regular use, O-rings can deteriorate or become loose. This wear and tear often results in a noticeable leak near the handle, which can lead to water wastage if not addressed promptly.
Regular inspections to assess the condition of O-rings and timely replacements can effectively mitigate this issue, ensuring the faucet remains leak-free.
B. Corroded Valve Seat
The valve seat is another critical component, serving as a connecting point between the faucet and the spout.
Due to constant exposure to water, sediments can accumulate on the valve seat. These sediments, over time, can lead to corrosion, compromising the effectiveness of the valve seat and resulting in leaks around the spout.
Implementing a routine cleaning schedule to remove sediments can significantly reduce the risk of corrosion and subsequent leaks.
C. Faulty Installation
The complexity of faucet installation necessitates precision and expertise. An incorrectly installed faucet can have misaligned or loose components, a common precursor to persistent leaks.
The engagement of skilled and experienced professionals for the installation process ensures that every component is accurately placed and secured, minimizing the risk of leaks attributed to installation errors.
D. Worn Washers
Washers endure a significant amount of pressure during the operation of the faucet. Each activation forces the washer against the valve seat, leading to wear and tear over time.
A worn-out washer often manifests in leaks around the spout, contributing to water wastage.
Regular inspections to monitor the condition of washers, coupled with prompt replacements when necessary, can effectively avert this issue.
Knowing these basic reasons for a dripping faucet is key to fixing it. It helps homeowners and workers make smart repair choices on their own or with professional help.
Also, this knowledge is important for regular faucet check-ups to prevent future leaks, making the faucet last longer and work better.
Fixing a Dripping Kitchen Faucet
A leaky faucet isn't necessarily a call for professional help. For the hands-on individuals adept at DIY tasks, addressing this issue can be straightforward.
However, before diving into the repair, it's essential to be equipped with the right tools and be well-versed in necessary safety measures to ensure an efficient and safe repair process.
Tools and Materials Needed
Fixing a dripping faucet requires having the right tools and materials at hand. Here's an expanded list of what you'll need:
Adjustable Wrenches: These are essential for loosening and tightening nuts and bolts. Ensure you have wrenches of different sizes to accommodate various components of the faucet.
Screwdrivers: A set of screwdrivers, both flat-head and Phillips, will be needed to remove screws during the disassembly and reassembly processes.
O-Rings: These small rubber rings are crucial in preventing leaks around the faucet handles. It's advisable to have a set of O-rings of different sizes available.
Washers: Having a few extra washers on hand is always a good idea. These are often the culprits behind a dripping faucet and may need replacement.
Replacement Parts: In some cases, specific components of the faucet may be damaged beyond repair and require replacement. Always ensure these parts are compatible with your faucet model to guarantee a perfect fit and efficient functioning.
Plumber's Tape: This tape helps in sealing threaded pipe joints and is instrumental in preventing leaks.
Bucket and Towels: Always handy to clean up any residual water during the repair process, ensuring a dry and safe working area.
Before starting the repair, ensure all tools and materials are within reach. Organize them neatly to facilitate easy access, ensuring a smooth and uninterrupted repair process. Being well-prepared not only hastens the repair but also ensures it's done efficiently and safely.
Safety Precautions
Before delving into the repair process, prioritizing safety is paramount. Here are enhanced steps to ensure a secure and efficient repair:
Shutting Off Water Supply:
Begin by turning off the water supply to the faucet. Locate the shut-off valves typically found beneath the sink and turn them clockwise to cut off the water flow. This crucial step prevents any unintended water flow, mitigating the risk of flooding and creating a safer, dry work environment.
Handling Tools with Care:
Tools are essential for the repair, but they should be handled with utmost caution. Ensure you are familiar with the operation of each tool before use. If unsure, refer to the tool's manual or seek guidance to prevent any potential injuries or damage to the faucet.
Wearing Appropriate Safety Gear:
Depending on the complexity of the repair, consider wearing safety gloves to protect your hands and safety goggles to shield your eyes from any debris or splashes.
Clear Workspace:
Ensure the area around the repair site is clear of any obstacles. A tidy workspace not only enhances safety but also improves efficiency during the repair.
Knowledge of Faucet Anatomy:
Familiarize yourself with the faucet's structure and components. Knowing what goes where can prevent accidental damage during disassembly and reassembly.
By adhering to these enhanced safety precautions, you ensure a risk-free environment, paving the way for a successful and efficient faucet repair. Safety, precision, and attention to detail are the cornerstones of a well-executed DIY repair task.
Step-by-Step Guide to Fixing a Dripping Kitchen Faucet
1. Disassembling the Faucet
With the appropriate screwdriver, unscrew and remove the screws that are holding the faucet handle in place. Carefully lift the handle to reveal the underlying nut. Utilize a wrench to loosen this nut, allowing you to access the stem. Proceed to remove the stem, unveiling the O-ring and washer that are typically the sources of a leak.
2. Identifying the Cause of the Drip
Now, closely examine the O-ring, washer, and valve seat. Look for signs of wear, damage, or corrosion. It's essential to pinpoint the exact component that's damaged to address the leak effectively.
3. Fixing the Issue
Depending on the identified issue, replace the damaged O-ring or washer. In instances where the valve seat is corroded, opt to clean it thoroughly or replace it if the damage is extensive. Always ensure that the replacement parts are compatible in size and type to ensure a perfect fit and effective sealing.
4. Reassembling the Faucet
Once the issue is addressed, it's time to reassemble the faucet. Reattach the stem and use a wrench to tighten the nut securely. Place the handle back in its original position and use the screws to secure it firmly. Ensure everything is tightly fixed to avoid any leaks.
5. Testing the Faucet
With everything reassembled, turn the water supply back on. Observe the faucet to verify if the dripping issue has been resolved. A successful repair will result in a drip-free faucet. However, if the faucet continues to drip, it indicates a more intricate problem that might necessitate the expertise of a professional plumber.
It's essential to highlight that not all faucets are designed the same way. Each model and brand can have unique structural elements and components. As such, understanding the specific anatomy and design of your particular faucet is a critical aspect of effective diagnosis and repair.
When to Call the Professionals
While many minor faucet leaks can be addressed with a basic set of tools and a little know-how, there are instances where the expertise of a professional plumber becomes indispensable. Here are scenarios where reaching out to Fox Plumbing is the best course of action:
A. Persistent Leaks
If after your best DIY efforts the faucet continues to drip, it's a clear indication that the issue might be more complex than it appears. Persistent leaks can be a symptom of underlying problems that require a professional touch.
B. Lack of Familiarity
If you're unsure about the anatomy of your specific faucet model or feel hesitant about the repair process, it's always safer to call in the experts. Fox Plumbing professionals are well-versed in a variety of faucet types and will ensure a precise and effective repair.
C. Extensive Damage
For faucets that have suffered extensive damage due to corrosion, wear, or a lack of maintenance, a professional assessment is crucial. Our team can evaluate the extent of the damage and recommend either comprehensive repairs or a complete replacement, as needed.
D. Water Pressure Issues
If the dripping is accompanied by irregular water pressure, it could indicate issues within the plumbing system. Fox Plumbing can diagnose and address these complex issues, ensuring not just a drip-free faucet but an optimally functioning plumbing system.
E. Peace of Mind
For those who prefer assurance and quality, entrusting your faucet repairs to Fox Plumbing guarantees a service rooted in expertise, experience, and professionalism. We ensure that every repair is thorough, durable, and compliant with industry standards.
Why Choose Fox Plumbing for All Your Plumbing Needs?
Fox Plumbing & Heating is a trusted name in Seattle, Renton, and King County, renowned for quality and affordable plumbing services since 1964. Here are compelling reasons to make us your first call for plumbing needs:
Experienced and Reliable
We boast over five decades of experience, a 98% customer retention rate, and a team of skilled professionals committed to excellence. Our comprehensive services, from installation to repair and maintenance, are executed with precision and efficiency.
Comprehensive and Efficient Services
Our "Warehouses on Wheels" are fully stocked with tools and parts, ensuring most issues are resolved in a single visit. We specialize in water and waste installation, drain cleaning, water heater services, sewer repair, and more.
24/7 Emergency Support
We're available around the clock for emergency services, ensuring timely and effective solutions to unexpected plumbing issues.
Affordable and Customer-Centric
Our competitive rates, financing options, and special coupons ensure affordability without compromising quality. We're dedicated to 100% customer satisfaction, evident in our responsive and personalized services.
Informative Resources
Stay informed with our industry-leading blog, offering valuable insights and tips on plumbing maintenance and trends.
Contact Us Today!
For reliable, efficient, and affordable plumbing solutions, trust Fox Plumbing & Heating. Call (206) 654-4986 to schedule an appointment and experience top-tier service that prioritizes your satisfaction and peace of mind.