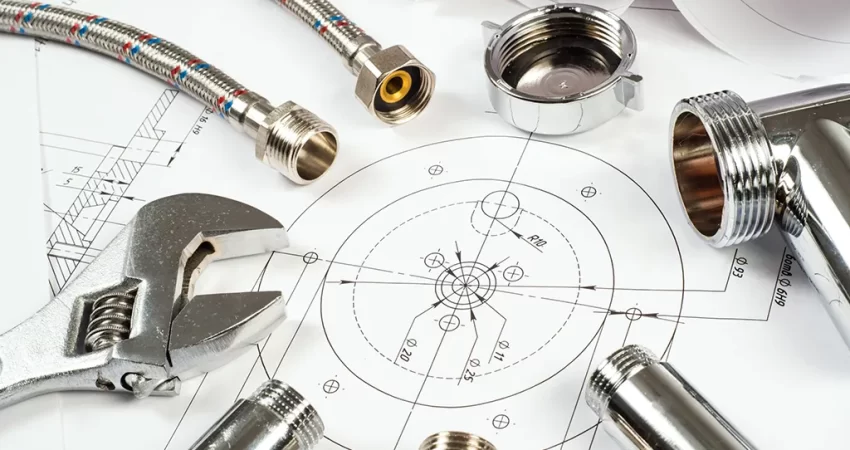 Why Are There Rust Stains in My Toilet?
Imagine walking into your bathroom, expecting the gleaming porcelain throne that you're accustomed to, but instead, you're greeted by unsightly rust stains marring its surface.
It's a sight that can instantly dampen spirits and raise eyebrows. Rust stains, with their stubborn resilience and unappealing appearance, are a common nuisance that many homeowners grapple with.
But what causes these unwelcome intruders, and how can you banish them from your pristine toilet?
In this post, we unravel the mystery behind rust stains, diving deep into their origins and offering practical, effective strategies to not only remove them but prevent their unwelcome return.
Prepare to reclaim the cleanliness and beauty of your bathroom as we embark on this enlightening journey together!
What Causes Toilet Rust Stains?
Have you ever wondered why rust stains appear in your toilet? It can be a common issue, but knowing where these stains come from is the first step to getting rid of them. Let's break it down into simpler terms.
Iron in Your Water
Rust stains often start with the water coming into your home. If there's a lot of iron in your water, it can react with the air to form rust. This rust can then stain your toilet bowl.
Old Pipes
The kind of pipes in your home can also be a factor. Older homes with metal pipes can face this issue more often. As these pipes get old, they can start to rust and add iron to the water. Every time you flush, a little more iron enters the bowl and can leave a stain.
Internal Toilet Components
Sometimes, the parts inside the toilet can rust too. When these parts start to wear down, they can release rust into the water in the tank. When you flush, this rusted water enters the bowl and leaves stains.
In essence, the presence of iron in the water, aging pipes, and corroded internal toilet components are primary factors leading to rust stains in the toilet. Understanding these can aid in effectively addressing and preventing the issue, leading to a cleaner, stain-free toilet.
Solutions to Rust Stains
Dealing with rust stains in your toilet can be a hassle, but there are effective ways to tackle this issue. Here's a simplified guide to some solutions that can help keep your toilet sparkling clean.
Treat Your Water
If your water has a lot of iron, it might be the root of those stubborn rust stains. One way to fix this is by using a water softener or an iron filter. These handy devices work to remove the extra iron and other minerals from your water. So, when the water reaches your toilet, it's clean and clear, reducing the chance of rust stains forming.
Check Your Pipes
Old pipes can be another reason for rust stains. If your home has metal pipes that have seen better days, they might be corroding and adding iron to your water. The solution? Consider replacing them with modern materials like PVC or copper. These don't rust, meaning your water stays clean, and those annoying rust stains can become a thing of the past.
Clean Toilet Regularly
A good cleaning routine can also help keep rust stains at bay. There are special cleaners designed to tackle rust without damaging your toilet's porcelain surface. Using these regularly can help manage and even prevent rust stains. Just make sure to follow the instructions to get the best results without harming your toilet.
Check Toilet Parts
Don't forget the parts inside your toilet. They can rust over time and add to the problem. Make it a habit to check these parts now and then. If you spot any rust, it might be time for a replacement. This can help stop rust from getting into the toilet bowl and prevent those unsightly stains.
Tackling rust stains can be as simple as treating your water, updating old pipes, cleaning regularly, and keeping an eye on the internal parts of your toilet. With these steps, a rust-free, clean toilet is well within reach!
Preventive Measures
Keeping rust stains at bay doesn't have to be a constant battle. With the right preventive steps, you can ensure that your toilet stays clean and free of those pesky rust marks. Here's a breakdown of some easy-to-follow preventive measures.
Test Your Water
The quality of your water plays a significant role in whether or not you'll face the issue of rust stains. One of the best proactive steps you can take is to regularly test your water, especially if it comes from a well. These tests can tell you if there's a lot of iron in your water.
If the tests show high iron content, you can take steps to treat your water before it even reaches your taps. This might mean installing a water softener or an iron filter. By tackling the issue at the source, you're less likely to see those reddish-brown stains appear in your toilet bowl.
Get Professional Help
Your plumbing system is like the backbone of your water supply, and keeping it in top shape can help prevent a host of issues, including rust stains. One of the best ways to do this is to schedule regular inspections with a professional plumber.
A skilled plumber can take a close look at your entire plumbing system. They can spot any potential issues, like old pipes that might be corroding or small leaks that could be letting air into the system, leading to rust. By catching these issues early, a plumber can fix them, helping to prevent rust stains from forming in the first place.
They can also give your toilet a thorough check, replacing any internal parts that are starting to corrode before they start causing problems. It's like a health check-up but for your plumbing system!
Removing Rust Stains from Your Toilet
After exploring solutions and preventive measures, you might find that stubborn rust stains still linger in your toilet. Not to worry – we're here to guide you on effectively removing those unsightly blemishes to restore your toilet's cleanliness and shine.
Specialized Cleaners
There are cleaners on the market specifically designed to tackle rust stains. These are a boon because they are specially formulated to break down and lift rust from surfaces, including the delicate porcelain of your toilet.
You simply apply the cleaner to the stained areas, let it work its magic for the time specified on the label, and then give a good scrub. The rust stains typically lift away, leaving the surface underneath clean and bright.
Vinegar and Baking Soda
If you prefer a more natural approach, a combination of vinegar and baking soda can be quite effective. This isn't just a safer alternative; it's also cost-effective and easy.
Apply a mixture of these two to the rust stains in your toilet. The vinegar, being acidic, works to dissolve the rust, while the baking soda adds a gentle abrasive action to help scrub the stains away.
Let the mixture sit for a few minutes to penetrate the stains before scrubbing. You'll be surprised at how those unsightly rust marks start to disappear, leaving your toilet looking refreshed.
Pumice Stones
For those stubborn stains, a pumice stone can be a handy tool. This natural stone is both abrasive and gentle. It's tough on stains but kind to your toilet's porcelain surface.
When using a pumice stone, it's essential to wet both the stone and the surface you'll be cleaning to prevent scratches. A gentle scrub can lift away rust stains, making your toilet bowl look clean and well-maintained.
Choosing the Right Method
The severity and persistence of the rust stains in your toilet can influence the best cleaning method to choose. Whether it's a specialized cleaner for its potent rust-dissolving properties, a natural mix of vinegar and baking soda for a safer, eco-friendly clean, or a pumice stone for those tougher stains, each method offers a practical solution to restore the aesthetic appeal of your toilet.
Remember, consistency in cleaning and maintenance is key to keeping those rust stains at bay and ensuring that your toilet remains in pristine condition over the years.
Fox Plumbing & Heating: Your Ultimate Solution
When it comes to effectively dealing with rust stains in your toilet, Fox Plumbing & Heating stands as your reliable partner. Our team of seasoned professionals is equipped with advanced tools and techniques to not only remove those stubborn stains but also implement solutions to prevent their recurrence.
We understand the intricacies of water quality and plumbing systems, ensuring personalized solutions tailored to your specific needs.
But our expertise isn't limited to just rust stains. At Fox Plumbing & Heating, we pride ourselves on offering a comprehensive range of plumbing services. Whether it's installation, maintenance, or emergency repairs, our dedicated team is always ready to deliver excellence.
With over five decades of experience, we've built a reputation for quality, reliability, and unparalleled customer service.
Call Us Today!
Don't let rust stains or any other plumbing issues compromise the comfort and safety of your home. Reach out to Fox Plumbing & Heating, and let our experts provide the efficient, effective, and reliable solutions you deserve.
Your peace of mind is just a call away. Dial (206) 654-4986 today, and step into a world where quality, excellence, and affordability converge. Your ultimate plumbing solution awaits!