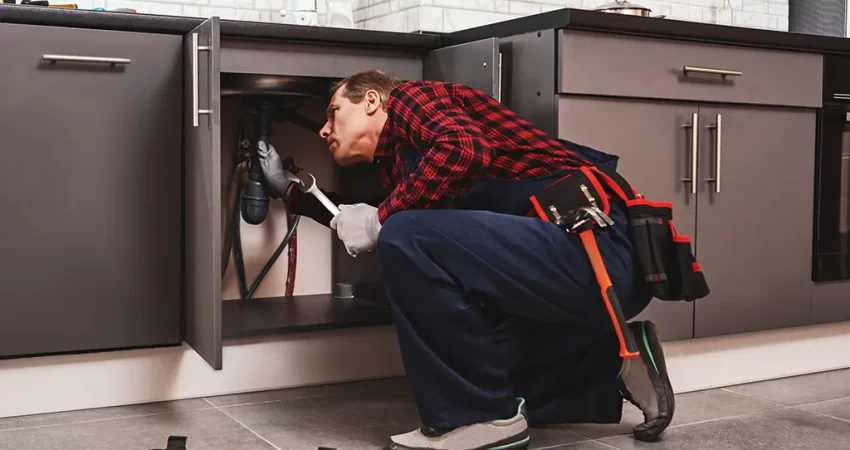 How to Fix a Leaking P-Trap
Nothing can be more frustrating than coming home to find water all over your kitchen or bathroom floor. Our home is our sanctuary, and when something goes wrong, we want it fixed right away.
One common issue many homeowners have is P-Trap leaks.
The P-Trap is vital for the plumbing system as it traps debris and prevents sewer gasses from entering your home. Fixing a leaking P-Trap is simple, but it can be challenging for those who are not familiar with home repairs.
In this blog post, we will guide you step-by-step on how to fix a leaking P-Trap, saving you time and money.
Looking for professional services to help you fix a leaking P-Trap? Contact Fox Plumbing and Heating today for immediate assistance!
Dial (206) 654-4986 or book an appointment online.
What is a P-Trap?
A P-Trap is an essential part of a plumbing system found under sinks, bathtubs, and showers. It is also known as a U-bend or J-bend because of its curved shape that resembles the letters "U" or "J".
A P-trap's primary function is to prevent sewer gasses and unpleasant odors from entering your home. It works by creating a water seal that blocks the gasses from the sewer line.
The water in the P-trap acts as a barrier that prevents the gasses from traveling up through the drain and into your living space.
Apart from blocking unpleasant odors, the P-trap also helps to prevent clogs. The curved shape of the trap captures solid debris, preventing them from making their way further down the drain pipe. Instead, they stay in the trap, allowing you to remove the debris more easily.
While the P-trap may seem like a small and unassuming plumbing fixture, it's essential for maintaining a healthy and hygienic environment in your home.
Ensure that your P-trap is functioning correctly and free from clogs and blockages. This can be done through routine maintenance and repair.
What Causes P-Traps to Leak?
There are several reasons why your P-Trap might start leaking out of the blue. Let's take a look at some of the common struggles that homeowners experience:
Reason 1: Loose Connections
P-Traps are connected to the sink drain and the main plumbing line with compression fittings that can become loose over time. A loose connection can cause water to leak through the threads and seep onto the floor.
If you suspect a loose connection, try tightening the fitting with a wrench. If that doesn't solve the problem, you may need to replace the compression seal.
Reason 2: Clogs
If you have a clog in your sink, the water can back up and overflow the P-Trap, causing it to leak.
This is especially common in bathroom sinks where people tend to dispose of hair and hygiene products.
To prevent this, make sure to frequently clean out your drains with a plunger or drain snake to avoid clogs.
Reason 3: Corrosion
If your P-Trap has been in place for a long time, the metal can start to corrode and rust. This can cause small holes to form in the pipe, allowing water to leak out.
The best way to avoid this is to replace the P-Trap periodically (about every 5-10 years) depending on its usage.
Reason 4: Shifting Pipes
If the pipes connected to your P-Trap shift, it can cause the P-Trap to become misaligned, leading to a leak.
This can often happen if the pipes are bumped or if your home sinks into the ground over time. If this happens, it's best to call a professional plumber who can reposition the pipes and fix any issues.
Reason 5: Improper Installation
If the P-Trap was not installed correctly in the first place, it can cause issues with leaking. This can often happen if someone tries to do a DIY installation without the proper knowledge or experience.
If you suspect that your P-Trap was not installed correctly, it's best to consult a professional plumber who can properly install a new one.
Reason 6: Over-Tightened Trap Compression Nut
The compression nut is responsible for securing the trap to the drain piping below, and if it is excessively tightened, the pressure exerted can result in the compression nut cracking.
Once the compression nut cracks, it can no longer provide the necessary pressure to keep the P-Trap sealed, leading to leaks.
Even metal trap compression nuts are not immune to cracking if they are over-tightened, as the excessive force can exceed the material's tensile strength.
Furthermore, manufacturers of drain traps explicitly warn against over-tightening compression nuts since this can cause leaks, leading to costly damages.
Reason 7: Improper Fit
When it comes to P-Traps, an improper fit can result in leaks and other plumbing issues. The P-Trap is designed to prevent sewer gasses from entering your home by creating a water barrier.
However, if the pipes, washers, and compression nuts used are too big or too small, then the pieces may not fit properly, causing gaps and spaces between parts. These openings could eventually loosen, crack, or corrode, leading to leaks.
Reason 8: Deteriorating Washers
Rubber washers are commonly used in plumbing systems to create a seal that prevents water leakage. Over time, these rubber washers can harden and dry out due to exposure to water, heat, and other environmental factors. When this happens, the rubber cannot create a proper seal between the components, allowing water to leak through the gaps.
How to Fix a Leaking P-Trap — Step-by-Step Guide
It's no fun dealing with a leaking P-Trap. Not only can it cause water damage to your home, but it can also lead to unpleasant odors and other plumbing issues.
Fortunately, there are some simple steps you can take to diagnose and fix the problem yourself—before calling in a plumber.
We'll walk you through the process of troubleshooting a leaking P-Trap and show you how to make the necessary repairs.
Step 1: Turn off the Water Supply
When fixing a leaking P-Trap, the first step is to turn off the water supply. Look under your sink for a knob or valve to turn off the water. Once that is done, run the faucet to remove the remaining water in the pipes.
Step 2: Remove the P-Trap
Remove the P-Trap by loosening the compression nuts that connect it to the tailpiece and waste arm. A large pair of pliers or an adjustable wrench helps remove these nuts. Place a bucket underneath the P-Trap to contain any excess water.
Step 3: Clean the P-Trap
Now that you have removed the P-Trap, inspect it for debris or clogs. Clean it thoroughly by running water through it and use a plumbing brush to remove any buildup that may be causing the leak.
Step 4: Check the Washers
Check the washers on the compression nuts to ensure they are in good condition. If they are worn out or cracked, replace them with new ones. The washers are easy to replace, but make sure to use the appropriate size and type.
Step 5: Reinstall the P-Trap
Once the P-Trap is clean and the washers are replaced, it's time to reinstall it. Apply a small amount of plumber's putty around the threads of each compression nut to ensure a tight seal. Tighten the nuts with pliers, but don't over-tighten them, as this could cause damage.
Preventing Future Leaks: Tips and Techniques
We'd hate to see you deal with the same issue over and over without end. Below are a few tips that you can use to prevent future P-trap leaks at home:
Use high-quality materials: Always opt for durable, high-quality materials for your p-trap and its connections. PVC, ABS, or brass p-traps are preferable over cheaper alternatives, as they are more likely to withstand wear and tear.
Ensure proper installation: Make sure the p-trap is installed correctly, following the manufacturer's instructions. The trap should be level, with a slight slope towards the drain pipe to facilitate water flow.
Regularly inspect the p-trap: Check your p-trap regularly for any signs of wear, corrosion, or damage. Early detection of issues can help prevent leaks and avoid costly repairs.
Keep the p-trap clean: Regularly clean the p-trap to remove any debris or buildup that could cause blockages or slow water flow. This will help maintain the p-trap's functionality and prevent leaks due to pressure build-up.
Replace worn-out parts: If you notice any worn-out or damaged parts, such as gaskets or washers, replace them promptly to prevent leaks.
Avoid chemical drain cleaners: Chemical drain cleaners can cause damage to your p-trap and connecting pipes, leading to leaks. Use a plunger or a drain snake instead to clear clogs.
Schedule professional inspections: Regularly schedule professional plumbing inspections to detect any potential issues with your p-trap and other plumbing components. An experienced plumber can spot problems early on and recommend appropriate preventative measures.
Proper Plumbing Maintenance and Care
Fixing a leaking P-trap is not a complicated task, but it does require a little know-how. By following these simple steps, you can easily fix the leak and prevent any further damage to your plumbing system.
Remember to always turn off the water supply before beginning any repairs, and if you're not confident in your abilities, consider hiring a professional plumber to do the job.
With a little patience and some basic tools, you can fix a leaking P-trap and have your plumbing system running smoothly again.
We Can Help
Trust Fox Plumbing and Heating for all your water line needs. Call us today at (206) 654-4986 to schedule a professional inspection or to discuss our expert water line repair and replacement in Seattle, WA. Let our skilled technicians take care of your plumbing concerns, so you can enjoy peace of mind and a hassle-free home.