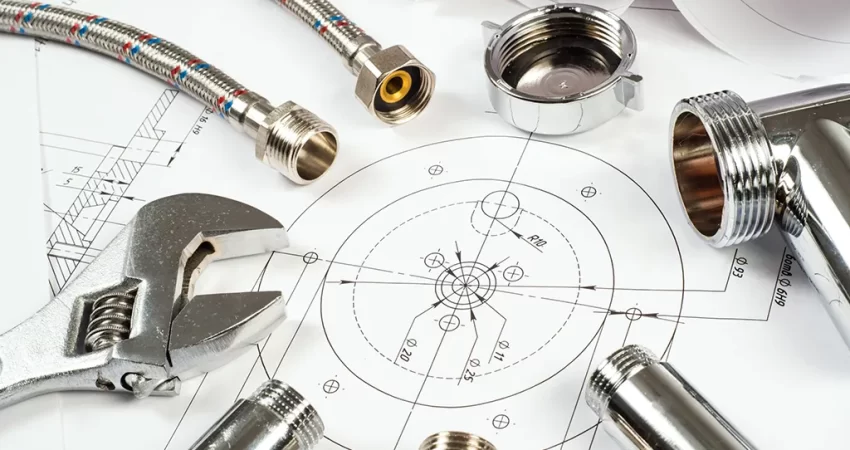 P-Trap vs S-Trap: Everything You Need to Know
When it comes to home plumbing, there are two heroes working silently behind the scenes to keep your living space fresh and clean: the P-trap and the S-trap.
These unassuming yet essential components of your drainage system help prevent sewer gasses from invading your home while ensuring smooth water flow.
But how do you know which one is right for you?
In this article, we'll guide you through the differences between P-traps and S-traps, their pros and cons, and even provide step-by-step installation instructions for both.
What is a Plumbing Trap and What Does It Do?
Before delving into the specifics of P-traps and S-traps, it's crucial to understand what a plumbing trap is and its role in your home's drainage system.
The Basics of Plumbing Traps
A plumbing trap is a curved section of pipe that connects your home's fixtures (such as sinks, toilets, and showers) to the main drainage line.
Traps come in various shapes and sizes, but all serve the same fundamental purpose: to prevent sewer gasses from entering your living space.
The most common types of plumbing traps are P-traps and S-traps.
A P-trap is a U-shaped pipe that connects your plumbing fixture (like a sink) to the main drainage line. It's the most common drainage trap used in residential settings.
On the other hand, the S-trap is shaped like the letter 'S' and often connects fixtures (like toilets and bathtubs) to the main drain line. It's more common in older buildings with floor-level connections.
How Plumbing Traps Work
The primary function of a plumbing trap is to create a water barrier between your home and the sewer system.
The curved section of the pipe holds a small amount of water at all times, which acts as a seal that stops sewer gasses from coming back up the drain and into your home.
The water in the trap also prevents odors, insects, and small rodents from entering your living space through the drain.
In addition to blocking sewer gasses, plumbing traps help ensure a smooth flow of wastewater from your fixtures to the main sewer line.
By creating a barrier of water, they allow air to pass through the system, preventing any vacuum effects that could cause slow drainage or gurgling noises.
Why Plumbing Traps Are Essential
A properly functioning plumbing trap is essential for maintaining a healthy and comfortable home environment.
Without traps, harmful sewer gasses containing methane and bacteria would infiltrate your living space, leading to unpleasant odors and potential health hazards.
Furthermore, a missing or malfunctioning trap could also allow pests to enter your home through the drain.
By using a P-trap or an S-trap in your plumbing system, you can effectively maintain a clean, odor-free living space while ensuring efficient wastewater drainage.
Understanding the differences between these two types of traps and their specific applications will help you make the best choice for your home's unique needs.
Need help looking for the right solution for your kitchen, bathroom, or laundry room? Fox Plumbing and Heating has your back!
Contact us today to schedule an appointment with our experts!
Comparing Efficiency: P-trap vs. S-trap
When choosing between a P-trap and an S-trap for your plumbing system, it's important to consider factors such as water usage, clogging potential, durability, and sewer gas prevention.
Here's a short comparison of the efficiency of P-traps and S-traps to help you make an informed decision:
Water Usage
Both P-traps and S-traps rely on standing water to create a seal that blocks sewer gasses.
The water usage for each type of trap is generally similar. However, P-traps are often more effective at maintaining the water seal due to their design.
S-traps, on the other hand, are more prone to siphoning, which can result in the water seal being compromised and allowing sewer gasses to enter your living space.
Clogging Potential
The smooth curve of a P-trap helps minimize the risk of clogs compared to the tighter bends in an S-trap.
The P-trap's design allows for more accessible cleaning and maintenance, which can further reduce the likelihood of blockages.
In contrast, S-traps can be more challenging to clean and maintain, increasing the chances of clogs and potential drainage issues.
Durability
The durability of a plumbing trap depends primarily on the material it's made from. Common materials include PVC, brass, and stainless steel.
Both P-traps and S-traps can be made from these materials, so durability is comparable between the two types. However, the quality of the manufacturing and installation can also influence the overall lifespan of the trap.
As such, it's essential to choose a reputable brand and, if possible, enlist the help of a professional plumber.
Sewer Gas Prevention
P-traps are generally more effective at preventing sewer gas entry due to their design. The horizontal orientation of the P-trap allows it to maintain a consistent water seal, keeping sewer gasses at bay.
On the other hand, S-traps are more susceptible to siphoning, which can cause the water seal to break and allow sewer gasses to enter your home. This increased risk makes P-traps a safer choice for most residential applications.
Code Compliance
In many areas, modern plumbing codes require the use of P-traps instead of S-traps. The reason for this is that P-traps are more effective at preventing sewer gas entry and maintaining proper drainage.
S-traps are generally not recommended for new installations and may even be prohibited in some jurisdictions. It's essential to consult your local building codes and regulations before deciding on the type of trap to use in your plumbing system.
Maintaining and Cleaning Your Plumbing Trap
Proper maintenance and cleaning of your plumbing trap, whether it's a P-trap or an S-trap, is essential to ensure optimal performance, prevent unpleasant odors, and reduce the risk of clogs.
Here's a quick guide on how to keep your trap in tip-top shape:
Routine Inspection and Leak Detection
Periodically inspect your plumbing trap for signs of wear, corrosion, or damage. Catching issues early can help prevent more significant problems down the line.
Check for leaks around the slip nuts, tailpiece, and drain pipe connections. If you notice water dripping or pooling, try tightening the connections. If the issue persists, you may need to replace worn-out washers or the entire trap assembly.
Cleaning Your Plumbing Trap
Turn off the water supply to the fixture you're working on.
Place a bucket or container underneath the trap to catch any water or debris.
Loosen the slip nuts on both ends of the trap using a wrench or a pair of adjustable pliers.
Carefully remove the trap and empty its contents into the bucket. You may need to use a flexible brush or a straightened coat hanger to remove any stubborn debris or buildup.
Rinse the trap thoroughly with water to remove any remaining residue. You can also use mild soap and a soft brush to scrub the interior if needed.
Before reassembling the trap, inspect the washers and replace them if they show signs of wear or damage.
Reattach the trap, hand-tighten the slip nuts, and then use a wrench or pliers to secure them, being careful not to overtighten.
Turn the water supply back on and run water through the fixture to check for leaks. If necessary, tighten connections further.
Preventing Clogs and Odors
Avoid pouring grease, oil, or fat down your drains, as they can solidify and cause clogs.
Use drain strainers to catch hair, food particles, and other debris before they enter your plumbing trap.
Regularly flush your drains with hot water to help break down and remove buildup.
If you notice persistent clogs or slow drainage, consider using a drain cleaner or contacting a professional plumber for assistance.
Alternative Trap Designs and Their Applications
In addition to the widely used P-traps and S-traps, other plumbing trap designs can be found in certain plumbing systems. Let's explore some of these alternative trap designs and their applications.
Bottle Traps
Bottle traps are common in Europe and are often used for bathroom sinks, particularly in situations where the trap is visible and aesthetics are important. They have a cylindrical body that holds the water seal and can be easily removed for cleaning.
Drum Traps
Drum traps are an older style of trap that was once commonly used in bathtubs and floor drains. These traps have a large, cylindrical body that collects sediment and debris, making them less likely to clog. However, they are now considered outdated and are rarely used in modern plumbing systems.
HepvO Waterless Traps
HepvO waterless traps are a more recent innovation in plumbing traps. These traps use a self-sealing valve instead of a water seal to prevent sewer gases from entering the living space. They are ideal for situations where water evaporation is a concern, such as in RVs and vacation homes.
Combination Traps
Combination traps incorporate multiple trap designs into a single unit. These traps are often found in commercial or industrial settings where a variety of different fixtures are connected to the same drainage system. They can help streamline the plumbing layout and reduce the overall number of traps required.
Making the Right Choice
Selecting the perfect trap for your home's plumbing system might feel a bit overwhelming. It's tough to make the right decision, especially when you don't know what exactly you're looking for.
Working with a professional plumbing company can help you make the right choice for your plumbing system. Certified plumbers have the expertise and tools to efficiently assess your needs and offer you effective solutions.
Need Expert Assistance? Call Fox Plumbing and Heating Today!
Our experts at Fox Plumbing and Heating have experience with various plumbing trap installations. Whatever your plumbing worries may be, we're confident that we can help you find a solution. Don't wait for small problems to turn into costly repairs. Give us a call at (206) 654-4986 to get water line repair and replacement services in Seattle, WA today!