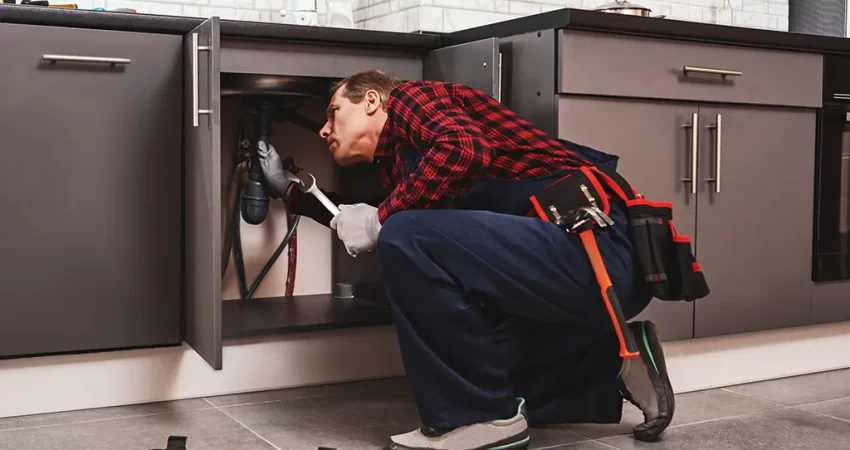 Do drain odor eliminators work?
As we use our plumbing system daily, we inevitably face drain issues now and then. A nasty smell from your drains is one of the most common problems that can surface.
When you go to the store or if you browse online, you'll see so many products that claim to eliminate drain odors effectively. How do you even begin choosing between all these options?
Do these drain odor eliminators even work?
The answer is yes, to a certain extent.
Odor is tied to bacteria. Within your plumbing system, the primary source of bacteria is waste materials and household debris like food and grease.
If a deodorizer or cleaner can eliminate the source of bacteria, then it is effective in removing odors. However, there are more significant plumbing issues where store-bought or DIY solutions won't be enough.
To determine the best drain solution for you, let's look at some of the most common drain cleaners and deodorizers.
Types of Drain Cleaners and Deodorizers
Chemical cleaners
Chemical drain cleaners use chemicals like bleach or sulfuric acid to eliminate drain clogs and odor-causing debris. They are known for being fast-acting and effective on common household blockages like food debris, grease, and hair clumps.
Chemical drain cleaners are relatively inexpensive and can offer a quick solution when you're experiencing simple drain issues like foul odors, clogs, and slow draining. However, chemical cleaners are incredibly harsh, and continued use can damage your pipes. There's also a chance that the corrosive substance can kill the necessary bacteria in your sewer system.
On top of that, sulfuric-acid-based cleaners are also harmful to human health. These harsh cleaners can cause painful chemical burns if it comes into contact with bare skin. Additionally, the fumes created when the cleaner melts clogs can cause respiratory problems, especially in a small enclosed space.
In some cases, chemical cleaners are not strong enough to melt down blockages in your pipes. Once this happens, the chemicals will just stay inside your pipes and cause harm to the plumber who will clear out the blockage.
Chemical drain cleaners are also harmful to the environment. If they leak out of your water lines and into the surrounding soil, they can end up harming plants and animals and contaminate nearby water sources.
As milder and more effective solutions pop up, some homeowners no longer turn to chemical drain cleaners. Instead, discerning consumers opt for other methods of cleaning and deodorizing their drains.
Enzyme-based cleaners
Nowadays, enzyme-based drain cleaners are becoming more popular. As people become more conscious of the products they buy, they tend to shift to natural and more environmentally friendly products.
Instead of strong chemicals, enzymatic cleaners use a combination of enzymes and bacteria to clean drains and eliminate odors. These enzymes and bacteria digest organic matter inside your drains, like hair, food, and grease. Once the digestion process is done, any debris in the pipes causing foul odors is eliminated.
Enzyme drain cleaners are safer for your skin. Although directly touching enzyme cleaners is still not recommended, it is much safer to handle them than sulfuric acid-based cleaners. They also don't produce toxic fumes as they clean your drains.
Enzymatic drain cleaners do not damage pipes and have a very low environmental impact. However, they act more slowly than chemical cleaners since digestion typically takes hours to complete.
Finding enzyme cleaners in stores can also be difficult since they have a shorter shelf life. No worries; you can always opt for online stores if it's hard to find them locally.
Overall, enzyme drain cleaners are a great and affordable option that's safer for your health and the environment.
Deodorizing tablets/sticks
Aside from chemical and enzyme drain cleaners, other options are available in the market. For example, if you want a drain odor eliminator that can also be used as preventative maintenance, you can opt for deodorizing tablets and sticks.
The two may differ in appearance and application, but their components are mostly the same. Both typically contain cleaning agents, deodorizers, and enzymes that help break down odor-causing organic material in drains.
The ingredients will differ based on the brand and manufacturer, but the most commonly used are baking soda, citric acid, enzymes, and essential oils for fragrance. The ingredients will kill bacteria, neutralize odors, and eliminate organic matter in your drains, preventing future clogs.
It's recommended to use 1-2 drain cleaning tablets a week or as needed. Place one tablet on your drain and run hot water over it until it fizzes and dissolves. For drain sticks, simply drop one down your drain. The stick will slowly dissolve as you use your drain and can last for around a month. If you want a solution that you don't need to do as frequently, deodorizing sticks are for you.
DIY Solutions
Sometimes, drain odors can be fixed without the help of store-bought cleaners. Milder plumbing issues can be fixed with DIY solutions using materials you already have at home.
Baking soda, vinegar, and boiling water: Pour equal parts baking soda and white vinegar down your drain. Let it sit for 30 minutes, then flush it with hot water. Baking soda and vinegar create a natural chemical reaction that can help remove odors and break down blockages. Additionally, hot water will help melt down clogs, especially ones made up of grease and oil. Even if your drain isn't emitting a bad smell, it's still recommended to do this cleaning method once a week as preventative maintenance.
Lemon juice and salt: Mix 2 parts lemon juice with 1 part salt and pour the mixture down the drain. Let it sit for several hours or overnight, then pour hot water down the drain to wash the mixture down. Lemon juice and salt are natural deodorizers that help remove odors and break down buildup. However, this solution will not work on odors caused by more serious plumbing issues.
Essential oils: Mix a few drops of essential oils like tea tree, lavender, or peppermint with water and pour it down your drain. Essential oils have natural deodorizing properties that can help freshen up your drains. It's important to note that if the odor is caused by a clog or buildup of debris, essential oils will not be able to eliminate the source of the smell. It's best to use oils after you have already cleaned your drain using more effective methods.
What to do when deodorizers don't work anymore?
While store-bought cleaners and deodorizers can remove many types of drain odors, there are some cases where they may not be enough. You'll notice that no matter how many times you pour cleaners down your drain, the smell just won't go away. When that happens, it's time to call a licensed plumber to help you.
Here are some examples of drain odors that may require professional intervention:
A larger, more problematic clog
If the odor coming out of your drain is caused by a massive buildup of debris, store-bought cleaners may not be enough to solve the issue. Call a Seattle plumbing service to clear out the blockage and remove the bad odor too. Professionals have more effective methods like drain snaking and hydro jetting to eliminate even the most stubborn clogs.
Sewer gas leak
If the foul odor coming from your drains is persistent and has a distinct rotten egg smell, you might be dealing with a sewer gas leak. Sewer gas is a mix of toxic and non-toxic gasses created by decomposing waste materials in your drains. It's normal for these gasses to exist within your sewage system, but it's not normal for them to leak into your home.
If sewer gasses leak out into your home, it is probably due to issues with your P-traps, vents, or your plumbing system in general. Thus, that sulfuric odor can't be fixed by store-bought deodorizers.
Most of the time, sewer gas leaks are harmless and can be fixed by pouring water down a dry P-trap. However, there are some cases where it's caused by broken or incorrectly installed piping. For such cases, it's best to call a plumber to fix the issue.
In large concentrations, sewer gas can be harmful to your health and can even be the cause of a fire or explosion. If you suspect a significant leak in your home, ventilate the area, keep your distance, and call emergency plumbing services immediately.
Broken or damaged pipes
A recurring bad smell coming from your drain can be coming from a more serious issue within your plumbing system. Broken pipes can not only let sewer gasses leak out but also make your system more susceptible to clogs. When you find yourself frequently pouring down cleaners and deodorizers down the drain to no effect, it's time to call professionals to come and fix the problem.
Are deodorizers not working for you? Call a trusted plumber in King County.
Smelly drains are troublesome and uncomfortable, even more so when they are persistent and recurring. When chemical, enzymatic, and effervescent cleaners don't work on your plumbing system, you might be facing a much more complicated issue that needs professional attention.
When that happens, don't hesitate to call the number one HVAC and Plumbing service in King County. Fox Plumbing and Heating provides only the best service with a 100% satisfaction guarantee. So look no further if you're looking for top-quality water line repair and replacement in Seattle, WA.
Call us now at (206) 654-4986. We are ready to serve you at any time!